I am very excited to share with you some of the most gorgeous backsplash ideas for kitchens with white cabinets!
Most people either love or hate white cabinets. I happen to be one that loves them.
Are they hard to keep clean, sometimes. The secret to keeping white cabinets clean is a Mr. Clean Magic Eraser. What I love is knowing my cabinets are clean. With colored cabinets, it's sometimes hard to know.
Once you have your white cabinets chosen the next big decision will be the countertops and backsplash. Finding the right backsplash is one of the most important design elements you will make in the kitchen.
Have no fear, I have tons of different things to get your mind thinking about which backsplash is right for you.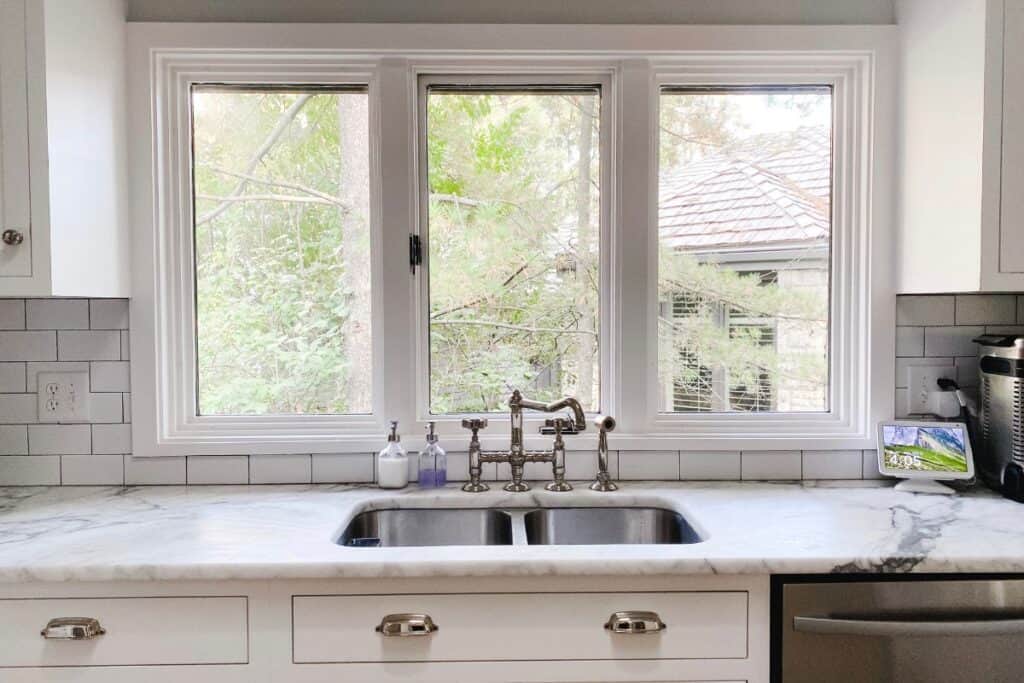 *This post contains affiliate links. For more details see my full disclosure.
Style, color scheme, layout, and more! These are all the things you need to consider when deciding what to use as your backsplash in your white kitchen.
Consider Your Kitchen Style
It's important to consider what style your kitchen cabinets are in order to select the perfect tile. Are they modern or more traditional? Do you have a timeless classic style or do you want something more streamlined?
There are modern tiles that would look amazing with a modern-style white cabinet and so on. What type of look are you going for?
Decide What Color Scheme You Want
What color white are your cabinets? White colors have undertones does the white have? Are they cool-toned or more of a creamy warm white?
This is really important to know so that you can choose a tile that will coordinate well with the white cabinets.
Different Backsplash Layouts
There are many different types of backsplash layouts. Here are a handful of them with a small description and then I will show you some photos.
Staggered Brick – very popular, especially in subway tile
Horizontal Brick – tile stacked directly on top of each other
Herringbone – a stacked V-shaped pattern
Diamond – diamond-shaped tile
Basketweave – geometric-shaped tile made to look like a basket, over under style
Geometric – geometric tiles that come in all shapes and sizes
Patterened – This is a recurring pattern that is colorful
Consider What Color Grout You Will Use
I actually have a whole blog post dedicated to how to choose the right grout color. Why is this so important? Because it can make or break the whole look of the room.
I know, I am sounding kind of dramatic but it is the truth. If you choose the wrong color grout you will not be happy with anything in your kitchen. So this step is just as important as choosing the tile.
Let's look at some different colors so you can get an idea of what I mean.
Marble Backsplash Ideas
Marble is a modern stone that is very popular right now. It's a timeless and classic material that never goes out of style.
While marble is timeless and classic it is incredibly popular right now and a great material to choose for your white kitchen.
You can get marble in so many different shapes and designs there is going to be one that speaks to you for sure.
Here you will see a marble backsplash in a staggered brick design. Marble can be cool-toned or warm-toned so it's important to know which one you have with your cabinets.
This gorgeous all-white kitchen has a marble backsplash in a geometric pattern. If you have white cabinets with marble counters then choosing a marble backsplash is a great idea, such as you see in this photo.
Subway Tile Backsplash Ideas
If you love Modern Farmhouse Design then you might have a subway tile in your sights. It's an inexpensive material that is extremely popular right now.
Subway Tile can come in many different sizes and materials. Some can be handmade and those will be more expensive. Some are now.
What color grout you choose to go with your subway tile is also an important choice. It's all about what kind of look you are going for.
This is my kitchen where I have white cabinets, marble counters, and subway tile backsplash with a dark grout color. This is very modern farmhouse and the dark grout really makes the staggered brick pattern stand out.
This gorgeous all-white kitchen has white subway tile with white grout. This makes the kitchen look all white, clean, and crisp.
Patterned Tile Backsplash Ideas
Patterned tile backsplashes are also very popular right now. They also have a strong place in Modern Farmhouse Design, as well as many others.
Patterned tiles can come in neutral shades so they blend in a bit or you can find them in bold colors. Which one would you prefer?
This gorgeous backsplash is the statement piece in this all-white kitchen. It highlights the amazing stove, the vent hood, and the open shelving.
Geometric Backsplash Ideas
Geometric backsplashes are more standard in modern design. You can find them in all types of materials and the color grout you go with can also make a big impact.
The backsplash here is really the star of the show. I love the black and white colors with the white cabinets and dark hardware.
Other Colorful Backsplash Ideas
If you are the type of person who likes something unique and different then here are some awesome colorful backsplash ideas for you!
This gorgeous scallop-shaped tile is stunning in this turquoise color. I love how they took it all the way to the ceiling. These cabinets have more of a touch of gray in them but you can see how they look with almost white cabinets.
Talk about having a sunny morning! This gorgeous yellow tile in a horizontal staked pattern will definitely put the sun in your space. I love the dark-colored island too.
This light blue tile really gives the space a sense of calm. I really like the yellow accents and how they pair with the light blue.
I hope this gives you some really good ideas on different materials, patterns, and colors that you can install in your home to give your kitchen just the right amount of spice!
Other Kitchen Remodeling Posts: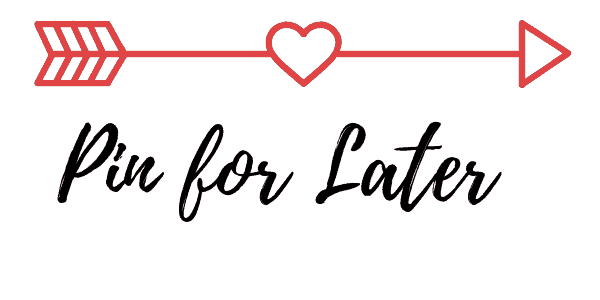 Gorgeous Backsplash Ideas for Kitchens with White Cabinets