Kitchens are very expensive to renovate and that's to say nothing about the time involved. Because of this, I am sharing my top ways you can update your kitchen without remodeling which will save you a ton of time, and money!
Kitchens are the heart of the home, and of that, there is no doubt. Anything that happens typically happens around the kitchen or dinner table. That's why the concept of open floor plans has become so popular.
We all have ideas on how our dream kitchen would look. What color cabinets and type of countertops. But we don't always have the budget to make those dreams come true. And that's okay!
That is why I want to share my tried and true favorite ways to update your kitchen without breaking the bank, or having to deal with the mess of demo.
*This post contains affiliate links. For more details see my full disclosure.
How to Update Your Kitchen Without Remodeling
Paint The Walls
Paint is the easiest and cheapest way to update a space. It's amazing how just a change in color can transform an entire room!
Painting is one of the greatest ways to update a space. By changing the color of the walls you can take a space from the 1980s to the 2020s in no time flat!
Some of the most popular shades to paint right now are grays and whites. There are a ton of different shades to choose from so you might want to check out my posts on them.
When choosing the right paint color you need to test a sample on the walls first. That way you don't paint the whole room and decide you hate it and have to do it all again. Testing a paint sample first ensures you don't waste time and money on something you don't love.
I love Samplize for paint samples. They will send you a 12X12 peel and stick sample to your home to test. You should look at it in different lights to see which color suits you best. Then you know you have chosen the right one. It's peace of mind for sure.
Now if you plan to paint the walls yourself, and I highly encourage you to do so, you need certain supplies. I will link a few of my OG favorites for you below but you should also check out my post on my must-have supplies to paint a room like a pro.
2" Purdy 144152320 XL Glide Angled Sash Paint Brush, Tynex Orel
PURDY XL PAINT BRUSHES - Purdy XL Series brushes are great for all types of environments, both interior and exterior. These paint applicators will help you...
VERSATILE - Our most popular brush line, these medium-stiff painting brushes are designed for latex and oil-based paints, primers and stains.
MEDIUM STIFF BRISTLE BRUSH - Designed to be easily cleaned, the DuPont Tynex nylon and Orel polyester-blend bristles offer superior durability and abrasion...
IDEAL USES - Handcrafted in the USA with global materials, this Purdy paint brush is ideal for walls, ceilings and trim. The Purdy Xl is our most versatile...
PURDY - From the first Purdy brush built in 1925 to the wide range of painting supplies and products we make today, one thing has stayed true - our...
Sale
Sale
Scotch Painter's Tape Original Multi-Surface Painter's Tape, 2.83 Inches x 60 Yards, 1 Roll, Blue, Paint Tape Protects Surfaces and Removes Easily, Multi-Surface Painting Tape for Indoor and Outdoor Use
READY. SET. PAINT!: 1 roll of 2.83 inch wide ScotchBlue Original Painter's Tape, a multi-surface solution for preparing to paint your living or working...
DAMAGE-FREE PAINTING TAPE: Adhesive tape can stay on surfaces for up to 14 days, and it removes easily without leaving a sticky residue behind
CONQUER MOST SURFACES: Specially designed blue tape for smooth or lightly textured walls, trim, baseboards, tile and glass
TACKLE INDOORS AND OUTDOORS: Resists UV rays, sunlight and moisture so you can use it as an indoor or outdoor tape
SUSTAINABILITY: Solvent-free paint tape made from 45% renewable resources with a core made from 70% post-consumer waste
10 Piece Painter Plastic Drop Cloths Sheet,Waterproof Anti-dust Cover,9x12 Feet Disposable Tarp for Painting for Couch/Furniture Cover
Package Contain 1 Pair of Gloves to Better Help You Better Doing the Job
No Leaking Guarantee - Tough and anti-tear plastic for easy cleaning, prevent paint spills and drips
10 Individual Packs - Each pack contain 10 individually packaged drop cloth clear drop cloth sheeting, easy to take out and use
Multi purpose - Suitable for different household works. Keep furniture, floors, carpets sidewalks from paint damage rust water and dust
Large size - Convenient opening and spreading to protect your important paper and electric equipment when remodeling your house or office
Paint The Cabinets
Just like painting the walls can make a huge difference in a kitchen so can painting the cabinets. You can take the ugly outdated cabinets of the 80s and make them gorgeous and trendy just with a little bit of paint.
Now painting the cabinets is not a one-day process. You first need to completely degrease them from all the cooking oils over time that has built up. Then depending on the type of paint you are using you will need to sand.
Priming is always encouraged when painting wood, especially if you are going from a dark color to a lighter one. Then of course the paint is where all the magic happens.
My friend Melissa over at Create and Find took a dark kitchen and made it light and bright just by painting the cabinets. It was all part of the $100 Room Challenge where you renovate a room for under $100. So it is possible to update for not a lot of money!
Update the Hardware
I say this all the time, the devil is in the details and the details make all the difference. Your hardware in your kitchen can make or break the space and just by simply updating them you can completely change the look of everything in the room.
Who knew such small things could make such a big impact!
One thing to keep in mind when you are changing your hardware is to keep the holes the same if you don't want to have to fill holes and drill new ones. All you need to do is measure the distance between existing holes and make sure the new ones are the same.
I have a post dedicated to kitchen cabinet hardware trends, that's how important I believe they are, but I will leave a few of my favorites below just to get your ideas flowing!

Install New Flooring
This is a larger project but one that can change the whole look of the room without spending a ton of money. In fact, there are a ton of great ways to update the floors all on your own!
In my basement, I updated the flooring by staining the concrete. The whole project only cost about $200 and it's not only durable but looks amazing!
If you have a smaller kitchen you can add tile and because it's a small space it won't be a huge money investment. I tore up ugly sheet linoleum in my laundry room at my old house and installed slate tile floors. It made a huge difference in the look of the room!
I have a post dedicated to DIY Flooring Ideas where you can get inspired by some great DIY options. If you don't feel like DIY'ing it then my bathroom flooring trends post would be great because almost all of the options that would work for bathrooms will definitely work for kitchens too!
Buy New Appliances
If you have a chunk of change and the ability to spend it on something that will make a huge impact on the kitchen then buying new appliances is the perfect way to go.
If you have an old almond-colored stove, and black dishwasher, and stainless steel fridge, all those colors are hard on the eye. It's best to have all the appliances be the same color. This is easier on the eye but brings a cohesion to the kitchen that really elevates the style.
What are the best appliance finishes? Well, that is a subjective answer. I love the look of stainless steel but some other colors have really grown in popularity.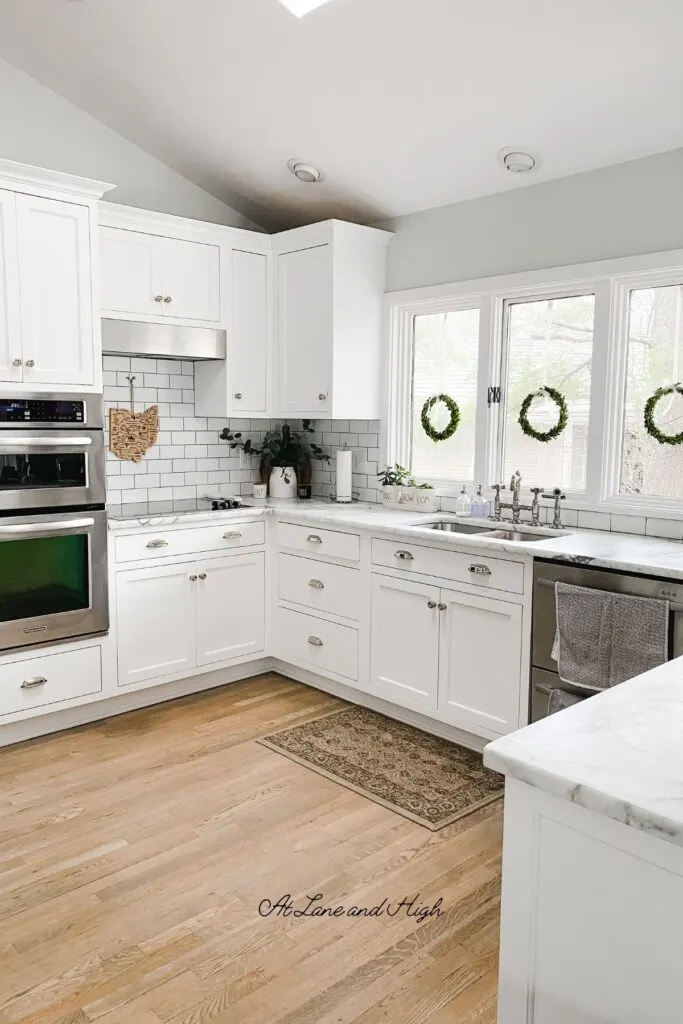 I really like the look of the black stainless. It's very sleek and modern looking. What I really love about all the stainless appliances they are making now is that they don't show fingerprints anymore! That is a huge time saver for cleaning!
Another color I love is all white. This isn't the all-white from the 1980s. This modern all-white has a sleek look and if you have an all-white kitchen these will be the perfect addition.
Replace The Faucet
Kitchen faucets have become more of an art piece that is functional. Many are simply gorgeous and really elevate the look of the kitchen.
There are so many types you can choose from. I encourage you to choose one that is beautiful but really keep in mind the function.
I love my faucet but it's a little low and I am constantly splashing water on the windows behind the sink and on the counter around the faucet. I would love to change it out for one of the tall faucets where the sprayer comes out of the main unit.
There are also great options where you can have a touchless design so when your hands are full of ground meat from making hamburger patties you don't have to get the faucet all dirty to turn it on to wash up.
These types of faucets require a little more when installing so keep that in mind if you plan to install them yourself. Check out some videos on that particular unit to make sure you are up to the task.
Here are some of my favorite faucets that I think would be worth checking out:

Add Rugs or a Runner
Something soft underfoot is really nice, especially if you spend a lot of time in the kitchen cooking (or cleaning). I recently repainted my entire first floor and now my kitchen rugs are sorely outdated. I have been researching more updated designs a lot!
One of my favorites is this one from House of Noa. It's so pretty and I think it will fit my kitchen perfectly. What I really love about it is how many different sizes it comes in.
There are a lot of great reputable rug stores to shop from online and they have amazing sales and pricing. I highly encourage you to check out my post dedicated to the best places to buy rugs online for more details.
Replace the Countertops
Another larger purchase but a great way to update without having to do a major remodel is to replace the countertops. This doesn't have to break the bank. What you need to do is find the right material for your budget.
When it comes to natural stone quartz seems to be king mostly because of it's indestructible nature. It requires no maintenance so it's really popular.
Granite is probably second to quartz because it too is pretty indestructible. Granite does need to be sealed once a year, that's the only thing to keep in mind there.
I have marble countertops and white they are stunning and I love the look of them they aren't cheap and they require a ton of maintenance. In fact, I wrote a post on how to maintain them!
If you are looking for cheaper options then you might want to consider soapstone. It has a wonderful look to it. Butcherblock is a classic material for countertops and is really inexpensive.
Laminate countertops have even made a huge change since the 20th century. The look of them can be very pretty so don't count them out.
If you feel like doing a DIY version then you have to check out my post on DIY Countertop Ideas. Some of the things the people did here will blow you away!
Change the Backsplash
Another big change that you can make is to change up the backsplash or add one if you don't have one. Most people don't have a ton of square footage here so changing it up won't cost too much money.
You can change it up by installing a new tile which is a great option. Subway tile is a classic look that's been around for decades and is very inexpensive. That's what I have in my kitchen.
Another option is peel and stick tile. This is a great DIY option that can be put over drywall or existing tile. I am hoping my Mom will let me do this to her kitchen soon. She hates the backsplash and I think this would be a great option for her.
Another way to update without a lot of money is to paint over the existing tile! Believe it or not, it can hold up very well as long as you do it right.
New Lighting
New lighting can totally transform any room. In a kitchen, lighting is very important. You have your overall lighting and you also need task lighting so you can see when you are working to prepare a meal.
Undercabinet lighting is perfect task lighting and is an easy DIY project for anyone. Check out your local home improvement store for options.
In my last house we added undercabinet lighting and went to our local Menards, they had tons of really great options. These types of lights can also be great for adding a little light on a fun movie night or can act as night lights for that family that might have midnight snackers.
Adding pendants over the island or peninsula and over the sink are also great task lighting options that will update your home and should have to break the bank. Here are some of my favorite options for pendant lights:

Add New Decorative Accessories
I love adding decorative accessories to my kitchen. I also change them up for different seasons or holidays. You can see my Christmas kitchen and all the fun details I added.
When you think about adding accessories to a kitchen think about things that fit both the form and function category.
For example, a cutting board leaning up against the backsplash with a nice candle in front of it. They will look gorgeous but the cutting board can be used when cooking. And when you have a particularly stinky meal, or just happen to maybe burn something, the candle can be very useful.
I have also seen people hang artwork on the backsplash which will add sophistication and style.
Here you can see that adding a little vignette of accessories can make a kitchen feel cozier like the rest of your home. Rather than a space that is hard and cold and only for tasks. We spend a lot of time in our kitchens, so why not make it a fun place to be in.
Add an Architectural Detail
Architectural details can be added to your home without spending a lot of money. For example, adding beams to a ceiling or around a window can be easy and inexpensive.
A great way to add a beam is by using wood from the hardware store and built in a u-shape, attached to the ceiling. No need to find a salvaged old beam from a barn. You can finish the wood in whatever stain you prefer and make it look just how you want.
Adding a wooden cover over your stove vent is also a great way to add architectural details without breaking the bank. Plus it's very functional because you are covering something that isn't really very pretty to begin with.
Update Your Kitchen Without Remodeling Conclusion
As you can see there are tons of ways to update your kitchen without remodeling it. What you need to do is decide how much you can spend and what you want to focus that money on. It might not be able to happen all at once but that's okay.
Related Home Renovating Posts: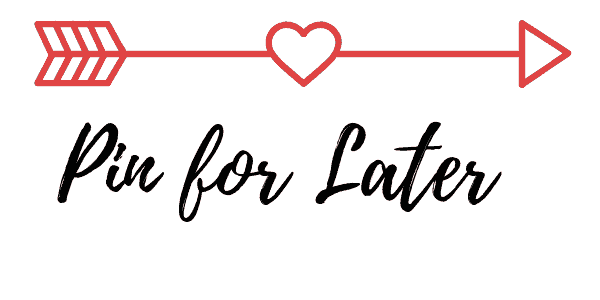 Ho to Update Your Kitchen Without Remodeling