It's cold outside and all you want to do is snuggle inside and keep warm!  Today I have 9 cozy bedroom ideas for the winter that will be so amazing you won't want to leave your home!
All of a sudden the temperatures have dropped!  Yesterday it was almost 60 degrees when I walked my dog, today the "feels like" temp is 12!  It's totally crazy!  Sorry Lilly, no walk today. 🐕
My favorite thing to do when it's cold is to snuggle in with my dog, huddle under fuzzy blankets and sit by a fire.  But in the bedroom, most people don't have a fireplace.  But there are other ways to make your bedroom cozy, and we are going to go into those cozy bedroom ideas right now!  Let's get started.
*This post contains affiliate links.  See full disclosure for more details.
1.  Bedding
The biggest piece of furniture you have in the room is the bed so bedding is so important.  I would like to break it down into categories:  sheets, comforter, and blankets.
Sheets
It doesn't matter if you live in a warmer climate, like Florida, or a colder one, like Minnesota, you need some warm sheets.  In the Summer I love cotton sheets.  They are cool and soft, perfect for Summer.  In the Winter I opt for something a little warmer.
If you live in a warmer climate you might want to go with a jersey knit sheet set.  They are almost a cross between a cotton and a flannel.  They are warmer and very soft.  Almost like that shirt that you have worn a million times!  Cozy and warm and oh so amazing.
If you live in a colder climate you should totally opt for flannel!  Flannel is a bit thicker, very soft and oh so warm.  I can always tell when it's time to make the switch from cotton to flannel because my husband complains about the sheets being too cold! 😂
Now if you are a warm sleeper, go for the jersey knit and vice versa.  It's totally up to you about which kind of sheets to go with but either of them will make your sleep time cozy and warm.
Here are some great examples:
Comforter/Duvet
Did you know that there are different kinds of comforters you can buy for different temperatures?  It's so cool!  You can get all down or a down alternative.  They all are great for different reasons.
Down comforters are great, they are lightweight so if you like to have lighter bedding this would be perfect.  Many companies offer different thicknesses for different warmth.  So if you are a warm sleeper or a cold sleeper you can get one that is perfect for you.
The con with a down comforter is they are pricier, and a lot of people have allergies to the feathers.
Down alternative is great because they aren't as expensive and don't cause allergies.  But the con here is you don't have that lightweight feel.  They tend to be a little heavier and because they don't have the feathers, they are denser.  If you are a warm sleeper this might cause you to feel clammy or sweat.
What's great is there is an option for everyone!
Blankets
So depending on what you need you might want a blanket between a top sheet and a comforter.  We used to do that in our old house because our room was pretty cold.  My husband likes to sleep warmer than I do so he adds blankets on top so they just cover him and not me.
The other alternative is to add a throw blanket to the bottom of the bed for decorative reasons but also because if you sit on top of the covers to say, work on a blog post 😉, you can throw on a blanket to keep warm.  Or use it for the dog because she will absolutely perish if she doesn't have a blanket to lay on!  LOL
What I love about these blankets is that you can go thin or thick and fuzzy.  The texture is what matters here.  There are all kinds of blankets in all kinds of textures that you will find one you love.
Here are some great examples:
Have you heard of weighted blankets? They are becoming very popular for people who have trouble sleeping. It is supposed to help you relax and sleep. They are pricey but if you have ever had insomnia, you probably would pay just about anything to catch those extra zzzz's.
2.  Lighting
Lighting is one of the most important elements when decorating a home.  In your bedroom, to make it cozy you want to have overhead lighting, but putting it on a dimmer switch will give you the option of creating a cozy, romantic atmosphere.  Hey, it is a bedroom right?!
Task lighting is also important, these are the lamps on your nightstands.  You want to make sure those lamps are the correct height first and are the right type of bulb to create a cozy glow instead of a bright stark white room.  For lamp height, you want to take the height of your nightstand and add a couple inches.
Here are some great lighting options.
3.  Rug
Having a rug underfoot when you step out of bed is such an amazing feeling.  It doesn't matter if you already have carpet, using a rug on top is totally acceptable and I completely encourage it!
Here are my favorite picks for a bedroom rug:
4.  Padded Headboard
Headboards are so cool because in this day and age with styles anything goes!  I have seen people use antique doors, shutters, and so on.  My favorite thing to use is a padded headboard.  I love the ones where they have a part that extends on the side where you feel like you are being hugged.
If you don't have one but want one and you feel like DIY'ing it, then go for it!  I have seen many tutorials and it doesn't look that hard.  I plan on making one for my daughter's room in the next month or so.  It will be the finishing touch to her room.
Here are some examples of rooms with padded headboards as well as some options for you to buy.
5.  Pillows
One can never have enough pillows!  Whether it's on the couch or on the bed, pillows always make a room feel cozy and luxurious.  My favorite thing to do is to add euro pillows with your standard pillows and lots of different sized and shape throw pillows.
Here are some rooms with some great pillows.
6.  Accent Chair
You don't need a couch unless you have the room because then heck yeah, go for a couch, you only need a chair.  Most of the time you spend in your room will be sleeping but you will want somewhere to sit that isn't on the bed.  For comfort's sake have a comfy chair in your room, if anything you can use it to put clothes on! 😂😂😂
I reupholstered this antique French chair for my room.  I use it at my vanity but I also pull it back and sit on it to put my shoes on, or to watch tv sometimes.  All I need is a little ottoman and it will be a great place to read a book.  I am keeping an eye out on facebook marketplace for that!  LOL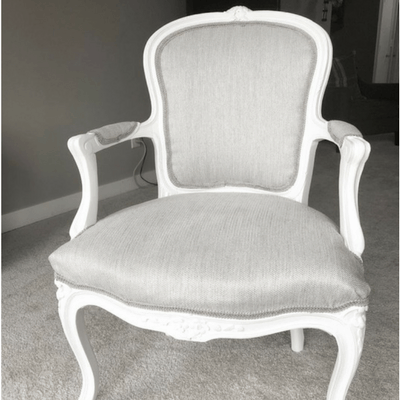 Again, your chair doesn't have to be huge or expensive (my chair was $20), you just need an option to park yourself when you don't feel like sitting on the bed.
7.  Curtains (aka privacy)
Blinds are great, they do a great job of keeping the sun out and giving you privacy but they leave little aesthetic appeal.  Curtains give a window softness and appeal.  It's like fashion sort of.  Think of them as a cute jacket that just makes the rest of the outfit look amazing.
You always want to make sure you hang the curtains as high as possible.  This creates the illusion that your ceilings are higher than they really are.  Your room gets instantly bigger.
You can get curtains to match your bedding but I don't really like the matchy thing.  I like to get something that coordinates but isn't exactly the same.
My favorite curtains I ever made were from scratch.  I went to JoAnn Fabrics, bought a bunch of fabric and actually sewed the curtains.  Well, my Mom did anyway!  😊 Make sure you use lining on the back.
I also love curtains from Ikea.  They are really well priced and have some that are really long so you can hem them to fit your space.  I did this in my dining room and plan on adding the same ones to my family room and breakfast nook.  They are literally less than $15 for a pair of panels.  I think the most expensive they have are $30 a pair.
Other great places to buy curtains are Bed Bath and Beyond, Target, Walmart, and most department stores.
8.  Soft Neutral Palette
I love bold colors but not in a bedroom.  This is a space that is for relaxing.  Save the bright colors for the dining room or playroom, your bedroom should be a neutral color.
What exactly is a neutral color?  Neutral means without color.  Beige, ivory, taupe, black, gray and shades of white are all considered neutrals.  Using these colors on your bedding and upholstered furniture as a base is the way to go then if you want to you can add some pops of color in your accessories and artwork.
Here are some rooms that have a beautiful color palette.
9.  Texture
The most important thing you can do to make a cozy bedroom is varying the textures you use in the room.  The blanket could be super soft, the rug could have a soft texture or even like a shag feel. The throw pillows can yet again add another texture.
If you go back to the Rugs, pillows, blankets and bedding tabs you can find all of them will have different textures.  You have soft flannel sheets with a nice neutral duvet/comforter.  Then add a plush throw blanket and all these pillows that have fringe or a nubby texture as is popular now.
Adding these textures to your bedroom will give you all the cozy feels you could ever want.
Similar posts:
5 Ways to Transition from Christmas to Winter Decor
9 Inexpensive Ways to use Winter Whites in Home Decor
Cozy Bedroom Ideas:  Inspirational Photos
Here are some more inspirational photos.  I can't wait to get started on finishing my master bedroom now!
My two favorite things in this photo are the chair and the lamp/nightstand.  Okay, I guess that's three!  this chair is like my dream chair!  I love the shape of the nightstand and the lamp is perfect.  I love the combo of feminine and a little rustic with the lamp.
This bed is nothing short of stunning!  I love the fact that there is a headboard and a footboard!  the ruffled duvet/comforter is so feminine and pretty I just want one!  I also love all the pillows.  This looks like one of those beds you could just dive right into!
Here is a great example of texture but also a cute chair that is useful and beautiful!  This chair is for the vanity but can easily be pulled out to sit in to have a conversation, put your running shoes on or just colapse in after a long day!
Okay so first of all this dog is totally adorable!  He can come to lay by my bed anytime!  And what I love about this room is the textures and neutral colors.  The rug, tufted sleigh bed, and the reclaimed wood wall all are different but coordinate amazingly well!
This one is my favorite!!!!!  Here is why:  the textured neutral rug, the padded bench, the white bedding with the adorable dog on the bed!,  the tufted headboard, the glam lamps and decor on the nightstands.  This room resembles my bedroom in many ways so I will be using this as my inspiration to finish mine off!
What a great rug in this room.  It's not totally neutral but it's got muted colors in it and such amazing geometric shapes.  I love it!  I think this is a great example of lamp options, instead of lamps using a wall mounted option.
source – This photo is from Pinterest and I don't know who it belongs to.  If you do then please let me know so I can give proper credit.  And let them know how much I love their room!
This is probably my second favorite photo here.  I love this headboard and the bench is so pretty.  The room is so calming with the neutral decor, but they mixed neutrals!  Ha!  I see what you did there!  I also love the accent chair on the side.  The perfect place to sit and relax.
This photo shows so many of the details mentioned above.  We have a padded headboard with beautiful bedding and lots of pillows.  We have stunning curtains, I literally am obsessed with them!  And a lamp that is the perfect height!
Here is what I was talking about with the headboard that makes you feel like a hug.  I love the wings on the side.  (No idea what they are really called!) And if you want texture, here ya go!  Fuzzy pillows with pom poms, blanket with fringe and a tufted headboard!  LOVE IT!
I hope you can take away a few new cozy bedroom ideas from what you read today.  I had so much fun researching everything!  Makes me want to completely redo my own room!
If you had to choose your favorite thing on this list that you would add to your bedroom to make it cozier what would it be?  Please tell me down in the comments!
Please Pin for later! ⤵⤵⤵