Today I am sharing how to reupholster a chair, paint a chair, and re-stain a chair.
I have been working on 3 different kinds of chairs for about 6 months now!  The first pair of chairs I will re-stain are antique chairs that my Grandmother gave me, they were her Mother's! 
The next is just a standard kitchen chair that we have had about 17 years and was pretty beat up so I have painted them. 
Finally, I found this great chair on Facebook Marketplace for $20!  I tried upholstery for the first time and I am so pleased with how all three chairs turned out!  So let's get into how to stain, paint and reupholster a chair!
*This post contains affiliate links, see my disclosure for more details.
How to Re-stain the Antique Chairs
I am a huge fan of furniture that has been passed down in the family. I know that it's not the most expensive piece of furniture but to know that these two chairs were in my Great-Grandma Rucker's home is really special to me. She passed when I was in the 8th grade, I remember her really well.
These chairs have been hanging out for the last 35 years either in a barn or garage or most recently, in my Grandmothers basement. All that temperature change and humidity swing can wreak havoc on a wood finish.
You can see the bubbling on the finish (kind of, sorry not the greatest pic) and the nicks and dings in the wood.
I gave these chairs a really good sanding starting with 80 grit sandpaper, then moved to 120, and finally finished with 220 grit to create a really smooth finish.  I did use my orbital sander but the majority of these chairs were sanded with good old elbow grease! 
This chair on the left was missing a piece. It's missing a hip rest…did you know that's what it was called because I didn't! I took the existing piece to my local Woodcraft store and they told me a website that has antique furniture parts. I ordered a new pair for about $20!
Sand it down to bare wood as far as you can, then apply a new stain.  Make sure you go with the wood grain and let it sit for a couple of minutes for a darker color.  Then wipe off the excess. 
I used Special Walnut from Minwax.  We wipe it off because any stain that doesn't soak in just gets sticky…I know from experience!  Then I applied three coats of polyurethane.
I just love that I have this piece of family history!
Would you like a printable PDF on how to do everything I did here?  With numbered steps?  Click here and download now!
How to Paint Chairs
When my husband and I got married his parents gave us this kitchen table (now it's a coffee table in my teenager's space and you can see how I did a makeover on that here). 
We had to purchase some chairs so we got these oak chairs and they have been great for many, many years.  But after a while, they were showing some serious wear and tear, and I couldn't handle that orangy oak anymore, so I decided that paint was the way to go. 
I decided on black after I had stained my table gray, you can see that post here.
The first thing you need to do is sand, using the same technique as I used on the antique chairs.  Now, these chairs didn't need to be sanded down as much as the antique ones did because we are painting them. 
I will admit though, I went to town and probably sanded way more than I needed to.  I am a complete perfectionist and it's something I am working on!  Haha, 😣
After sanding, clean really well to get all the dust off. Put down plastic or a tarp and turn the chairs over. Paint the bottom and the legs then turn the chair over and finish the top. Most likely you will need two coats of paint for good coverage.
After 1 coat.
After 2 coats
If you want a distressed look you can take a sanding block to the edges of the chair as much as you want.  If you go too far no worries, just add a little paint!  Once the paint is done apply polycrylic in the same manner.  Polycrylic is a water-based sealer which is what you should use after painting with water-based paint.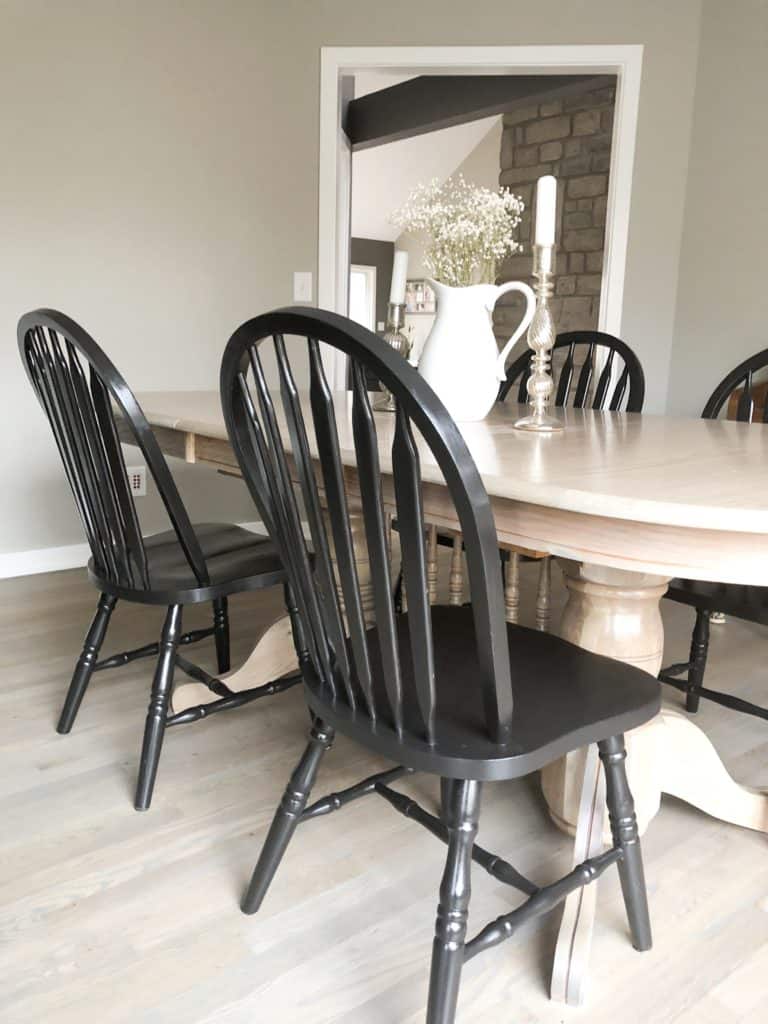 I think they look great!!!  And don't forget, you can download a detailed tutorial that you can print out by clicking here.
Related Posts
How to Reupholster a Chair
Reupholster a Chair – Remove old Fabric and Paint
I picked up this French chair from Facebook Marketplace for only $20! I just love the shape, it's so feminine and the perfect chair to put at my vanity!
Step one is clean it thoroughly. Then rip the fabric off, but make sure you keep the pieces to use as templates later on.
I did not have any fancy tools, just pliers and a very small screwdriver for when I couldn't get the pliers under the staples. Make sure you wear safety goggles because sometimes those staples go flying in all directions!
Whoever had upholstered this before went a little bit staple happy! I tried to get most of them out but there were some that just wouldn't budge. So I left them.
Once I got all the fabric and staples out I painted the chairs. I did a chalk paint in white, it was Martha Stewart brand and I also used the wax from the same line. After I put the wax on the chair turned blue!!!!!!
My friend Melissa over at Create and Find posted this picture in one of her furniture flipping groups on Facebook and we found out that it wasn't gold paint that was on the chair, it was gold leaf. 
So it basically oxidized and turned blue!  😂  And this had nothing to do with the paint or wax I used….would have happened no matter which chalk paint I used.
To fix this I used Kilz stain blocker and painted the chair white.  It did the trick and the chair was once again white and killing all that blue oxidation.
Then I went to use polycrylic.  When you paint something a light color or white you should use polycrylic because it dries completely clear, polyurethane can turn a little yellow.
So I wiped it off and left it as is. It looks great and I didn't do what my husband told me to do….which was throw it out the window. Sometimes the "easy projects" aren't so easy.
Reupholster a Chair – Adding new fabric
Now the upholstery, this was my first time so I chose a fabric that didn't have straight lines like plaid or stripes.  I heard that those are really hard to make sure stay lined up so leave those for when you are more experienced. 
For this chair, I got about 2 yards of fabric for this chair and used the pieces I had removed as a template to cut out the new fabric pieces.
I replaced some of the batting, the old stuff was falling apart, then laid the fabric over the new batting and stapled once in the front, once in the back and then each side, making sure to pull the fabric tight then staple. 
Once I finished all four sides I filled in between stapling down the fabric to the wood chair.  Pretty much used the same process for all the parts, bottom, back, and arms.
I used a fabric trim that I purchased from Joann Fabrics.  Make sure you measure before you go purchase it, you buy it by the yard just like the fabric.  I couldn't believe it but my chair needed 6 yards! 
Using hot glue I started the seat in the back and went all around putting the trim over the staples and once I got to the back I folded the end under so it was a nice seam and glued it down.  Repeat this for the back and arms.
Photo cred to my daughter Erin!
While I had the glue gun out I was working on a coffee filter wreath which you can see in the background. That tutorial is right here!
No more blue!
Don't forget you can download all the steps to these projects in an easy to read tutorial right here!
*What I earned about upholstering
 It's not as hard as I thought it would be.
  Make sure you have your staple gun angled the right way, especially on the back of the chair, so you don't put staples through the back where they show.  Yes, I did this several times!
  Pull the fabric really tight, tighter than you think.  I didn't do as good a job of that on the seat, but I don't think it's that noticeable.
  The trim makes the biggest impact, I couldn't believe how much better the chair looked with trim!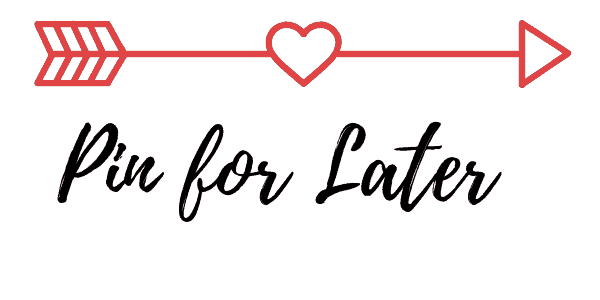 I hope you learned a bit about how to reupholster a chair, staining a chair, and painting a chair! It wasn't hard at all and I would totally do it again.