Benjamin Moore Linen White is a gorgeous warm white that is very underutilized. Today we will dive into all the wonderful traits of this gorgeous white paint color and whether it would be a good choice for your home.
There are a lot of white paint colors out there. You have heard of fifty shades of gray, well there are at least that many or more shades of white!
Not all whites are created the same and I want you to have all the details on this color so you can make an educated decision on which one is right for you.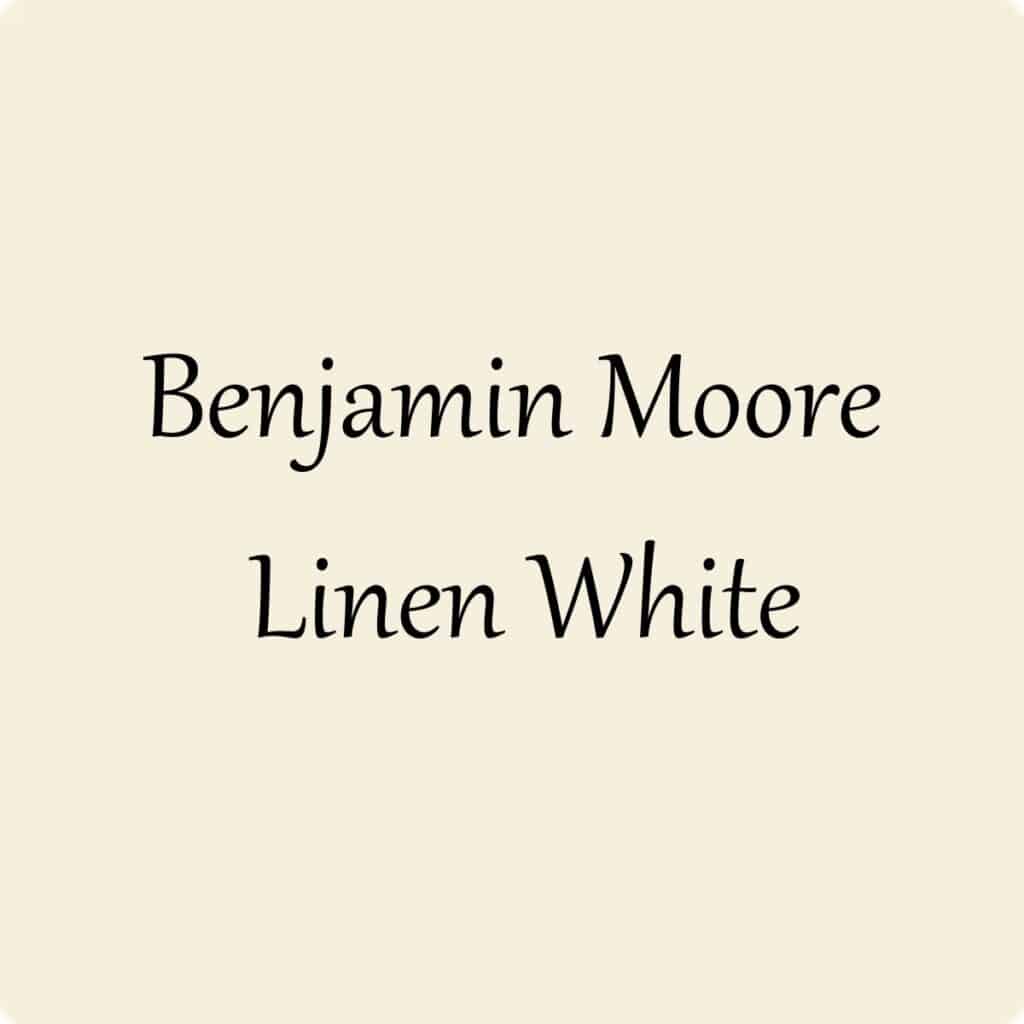 *This post contains affiliate links. For more details see my full disclosure.
What color is Benjamin Moore Linen White?
Benjamin Moore Linen White is a gorgeous creamy white that honestly is more creamy than it is white. It is warm-toned.
This color gives your home a fresh feel just like fresh new linens feel on your bed or your upholstered furniture.
What are the undertones of Linen White?
Linen White has yellow undertones. Will it look yellow on your walls? That depends on the lighting and what other colors you pair with it.
In south-facing and west-facing rooms where the natural light tends to be warmer, this color will definitely take on more of a yellow look. It's best to stick to north-facing rooms with this color.
If you pair this color with other colors that are cool-toned then the yellow undertones will stick out more. Conversely, if you pair it with other warm colors they will blend much better together and the yellow won't show as much.
What is the LRV of Linen White?
Linen White is a very bright color with an LRV of 82.9.
Remember, LRV stands for Light Reflective Value and is a scale from 0-100 with 0 being the darkest black and 100 being the brightest white.
Since Linen White stands so high this would be a great color to use if you want to lighten and brighten a room.
How to know if a paint color is right for you?
The best way to judge if a color is good for you then you will want to put a swatch on the wall and look at it over a few days. Look at it in different lights and decide if you really like it.
You can do this by getting a sample from the paint store and using a brush to put it up on the walls, but then you are left with a can that you can't do anything with. Those samples are used with poor-quality paint and aren't meant for use on your walls permanently.
I recommend going with Samplize. They are a company that will send you a 12X12 peel-and-stick swatch of a paint color that you can stick to the wall. When you are done just peel it off and throw it away.
It's easy and much less messy!
What color goes well with Benjamin Moore Linen White?
Sticking to other warm colors is best when it comes to Linen White. I like pairing it with other earth tones, warm greiges (especially dark ones like Urbane Bronze), as well as mustard colors.
I do think this color looks amazing with blacks and navy blues though.
What trim color looks best with Linen White?
It's best to go with a brighter white that is more of a true white with not a lot of creaminess to it.
For this, I like Benjamin Moore White Dove or Simply White to use on the trim next to Linen White.
Linen White Compared to Other Colors
Here are some colors that are similar to Linen White and what their differences are.
Linen White vs Swiss Coffee
Linen White vs White Dove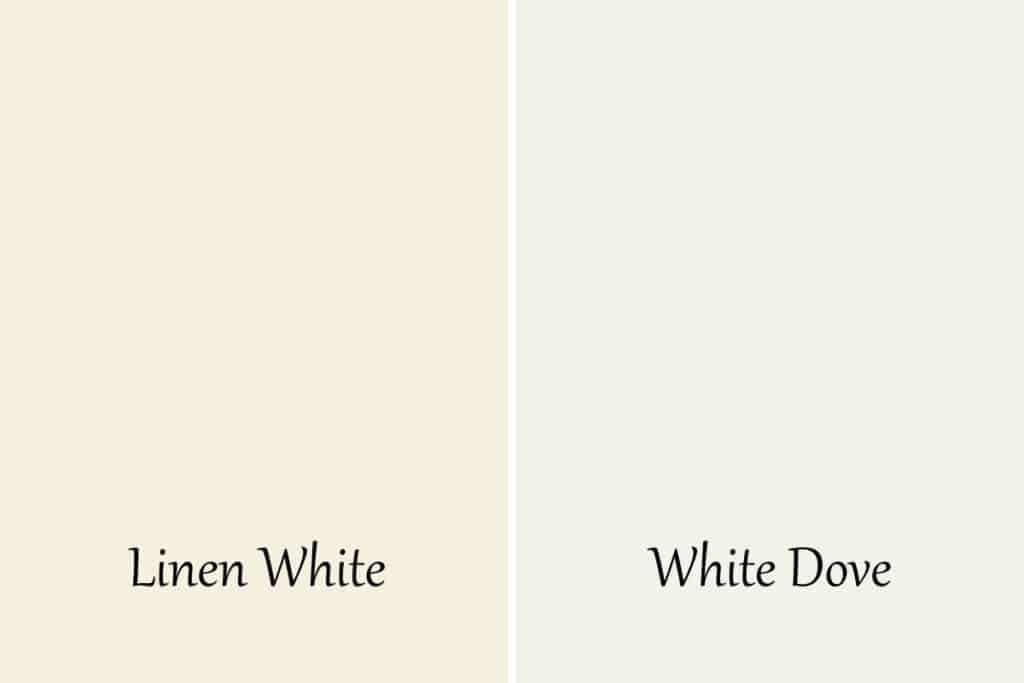 These colors are similar but very different. White Dove is cooler than Linen White and it's brighter with an LRV of 85.38.
White Dove has a touch of green in it's undertones that just aren't there in Linen White. It's also considered closer to a true white even though it has creamy undertones (they just aren't as creamy as Linen White).
Linen White vs Navajo White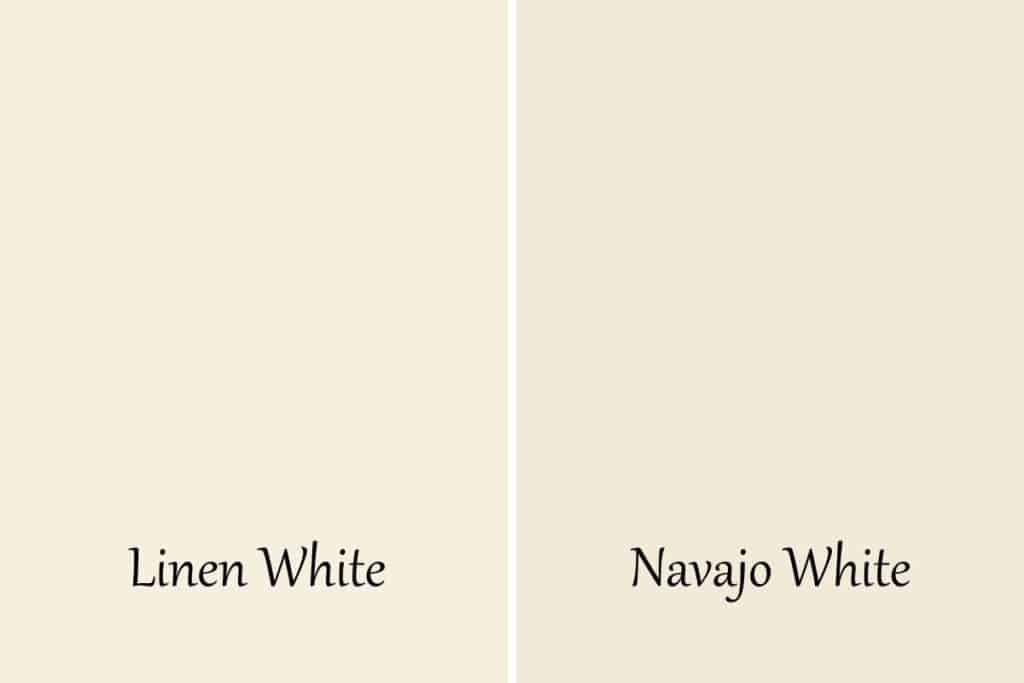 These colors sit so close on the LRV scale with Navajo White being just a tad darker (LRV of 79.88). The big difference between these colors is that Navajo White has a touch of gray which keeps the color from pulling too yellow.
Linen White vs Stoneware
As you can see these colors are very similar. They have almost the same LRV as well, Stoneware being at 83.57. The difference is Linen White is a touch more creamy, Stoneware has a slight touch of gray which tones down it's creaminess.
Where To Use Linen White
You really can use Linen White in any space because it's such a light and bright color. The best place is in north-facing rooms but that doesn't mean you can use them in the other rooms. It just really shines best facing north.
Linen White in a Dining Room
This stunning dining room has White Linen on the walls as well as the trim. By doing this you get a very cohesive look. I love the way the color sits as a gorgeous backdrop for the furniture and accessories. And can we talk about those floors!
Linen White in a Kitchen
Here you can see how the color on the cabinets really contrasts with the whites in the room (countertops, sink, and backsplash).
The warmth in Linen White really comes through here and wraps this normally cold hard room in a warm hug.
This kitchen is gorgeous. I love the details on the island. Linen White goes with just about any metal but I think it really looks best with gold or bronze. The warmth in the hardware goes nicely with the warm undertones in the paint color.
Linen White in a Family Room
This monochromatic room is just gorgeous and presents such a feeling of calm. The walls are Linen White and the trim contrasts with White Dove. The upholstered furniture is also a light and bright white with a touch of creaminess.
Other White Paint Colors You Might Like: