Sherwin Williams White Duck is a gorgeous off-white paint color that is very popular right now in homes all across the world! It's one of designers' top picks if you want a cozy feel without being too gray or beige.
Remember back in the 90s when everyone was painting their walls beige? Yeah, I know I cringed a little too. Then there was this massive shift to gray.
Cool-toned grays were all the rage and they stuck around for a long time. Gray was used everywhere, from walls to floors to furniture and accessories.
In the last 5-10 years we have seen a shift to light and airy. More whites are being used in new homes and designers are choosing whites when renovating homes.
Do you know the saying 50 shades of gray? Well, there are just as many shades of white and it's really important to know everything you can about whites before you take the plunge into painting your home a crisp beautiful white.
*This post contains affiliate links. For more details see my full disclosure.
Is White Duck warm or cool?
White Duck is a gorgeous off-white paint color that leans to the warm side. It is creamy and will give your home a wonderfully cozy feel without feeling beige. How does it do that? it's all about the undertones.
What are the undertones of Sherwin Williams White Duck?
White Duck has yellow undertones just as most creamy, warm white colors do. What makes White Duck stand out a little from the others are the subtle greige undertones that it has.
What does that mean? Well, there is yellow but there is also a slight touch of gray so that keeps the yellow in check. Your walls will feel a creaminess without standing out yellow.
What is the LRV of White Duck?
LRV is really important to pay attention to. It stands for Light Reflective Value and it is a scale between 0-100 which measures the amount of light a color reflects.
The darkest black is close to zero and the brightest white is close to 100. White Duck sits at a 74 which makes it a really bright color.
If you are looking to lighten a dark room this is a great color to do that.
How to know if a paint color is right for you?
The best way to judge if a color is good for you then you will want to put a swatch on the wall and look at it over a few days. Look at it in different lights and decide if you really like it.
You can do this by getting a sample from the paint store and using a brush to put it up on the walls, but then you are left with a can that you can't do anything with. Those samples are used with poor-quality paint and aren't meant for use on your walls permanently.
I recommend going with Samplize. They are a company that will send you a 12X12 peel-and-stick swatch of a paint color that you can stick to the wall. When you are done just peel it off and throw it away.
It's easy and much less messy!
Does White Duck look yellow?
I briefly touched on this but because this is a common question I wanted to make sure it was covered explicitly.
The answer is no. The color will not look yellow on your walls. In north-facing rooms you will see the color pull a little more towards the greige side. In south-facing rooms the color will look a tad more creamy.
But even in these south-facing rooms the color will not look yellow.
What are the best white paint colors to pair with White Duck?
White Duck being a creamy color it's a good call to go with another white color that is a tad more white but also has a creaminess to it. I would go with Sherwin Williams Pure White.
If you are looking for more of a contrast I really like Sherwin Williams Highly Reflective White.
Another option is to paint your trim White Duck but do it in a semi-gloss sheen to add a bit of contrast from the walls.
What paint colors go with Sherwin Williams White Duck?
White Duck is a very neutral color so it really pairs well with almost anything. I really like it with greige paint colors that are darker than White Duck.
I also like this color when paired with cool-toned dark colors such as navy blues.
One thing I would definitely avoid is any paint color that has purple undertones. White Duck does not play well with them.
Sherwin Williams Alabaster vs White Duck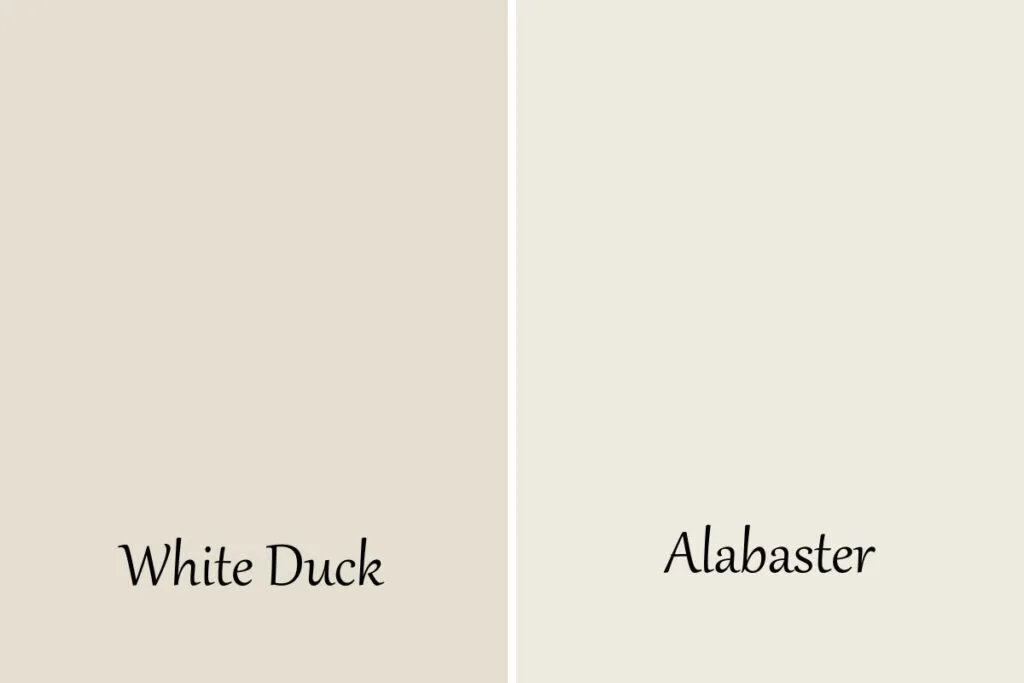 You can see from this side by side comparison that White Duck is slightly darker than Alabaster and it has those greige undertones whereas Alabaster is more yellow with a touch of green.
Sherwin Williams Shoji White vs White Duck
I would say these two colors are very similar and they have almost the same undertones. What you can see by the side by side here is that Shoji White is a tad more greige than White Duck. But only barely.
Sherwin Williams White Duck vs White Dove
These two colors are very different even though they both are considered a white. White Dove is brighter with much more yellow and green in it with no gray undertones at all.
Sherwin Williams White Duck Whole Home Color Palette
Get this free whole home color palette for Sherwin Williams White Duck and you will also be part of the At Lane and High Community! You will receive weekly newsletters on new posts and you can unsubscribe anytime.
Sherwin Williams White Duck in Real Homes
If you are looking for a white color for the exterior of your home White Duck is the perfect color to use. As you can see here it pairs wonderfully with wood tones, black and the greenery in the yard. I just love this look!
White Duck on this fireplace is stunning. The wall color is tad darker than White Duck but they pair nicely. The stone work also looks really good with White Duck. The stone is more cool toned but it still looks great with the paint color.
I really like the look of White Duck on the cabinetry. The creaminess gives a kitchen less of a stark and hard look.
White Duck also pairs really well with the gold in the hardware, the wood floors, and the black of the appliances. This color is really stunning!
Other White Paint Colors You Might Like: