Cream is great for more than just recipes! Today I am sharing the best cream paint colors from Benjamin Moore and all the details so you can decide which one is perfect for you.
Gray has taken the design world by storm but as usually happens the pendulum of paint colors is swinging back towards the warmer side of things.
Don't get me wrong, we are nowhere near the beiges of the 90s. UGH, I shudder just to think of it! We are talking about the light and bright colors of the cream world.
What is great about cream is that it's light so you still get that airy feel but it's warm so it feels like your home is wrapping you up in a big hug. It might be just the perfect amount of bright but cozy!
The thing you have to keep in mind is that not all creams are created equal. The main undertone in cream paint colors is yellow which is a big deal!
Too much yellow and your room can scream sunshine, not enough and it can look washed out. That's why you are here with me today! We are going to get down to the nitty gritty on the best ones with varying degrees of creamy yellow undertones.
*This post contains affiliate links. For more details see my full disclosure.
The Best Cream Paint Colors from Benjamin Moore
I absolutely love the shades of paint that Benjamin Moore offers. Here are the very best and most popular cream paint colors.
Natural Cream
Natural Cream is actually on the border of cream and greige. Greige being the mixture of gray and beige.
It has yellow undertones but also gray which keeps the yellow muted. Its LRV is 64.78 which makes it more on the light side rather than off-white.
Get a swatch of Natural Cream from Samplize!
Simply White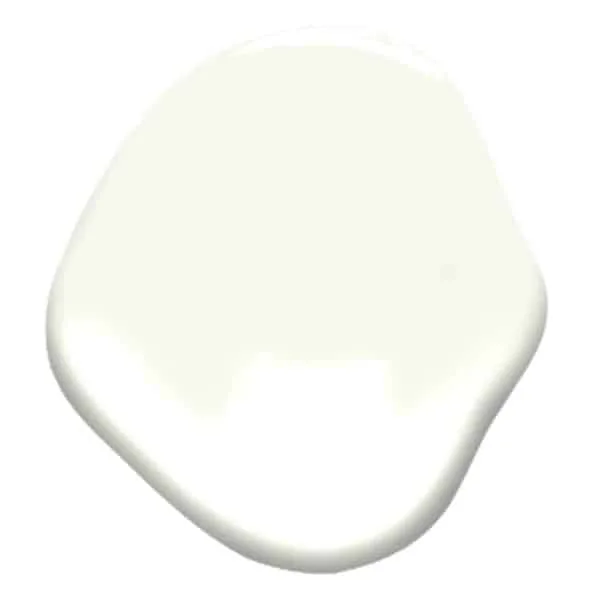 Simply White is the opposite of Decorators White, it pairs nicely with warm tones and looks beautiful in any room. It has slight undertones of yellow.
With an LRV of 91 this is by far one of the brightest paint colors you can find.
Get a swatch of Simply White from Samplize!
Soft Chamois

Soft Chamois is a gorgeous soothing off-white with just the right amount of yellow, not too much and not too little. It has an LRV of 77.4 which makes it a really bright color.
This color has the amazing ability to make a room feel much larger than it really is!
Get a swatch of Soft Chamois from Samplize!
Timid White

As you can see here Timid White isn't really hiding those yellow undertones! Believe it or not there is a touch of green in there too but you won't see that most of the time.
Get a swatch of Timid White from Samplize!
Gentle Cream

This color was really popular before grays took the world by storm. It's a gorgeous off-white, almost more of just a light color sitting at 72 on the LRV scale.
It has a little less yellow in it compared to some of the others. It's still very creamy it just isn't as yellow.
Get a swatch of Gentle Cream from Samplize!
Indian White Indian White is similar to Gentle Cream but a bit lighter with an LRV of 75.44. It has less weight but is similar in that it has a touch less yellow than some of the others.
Get a swatch of Indian White from Samplize!
Swiss Coffee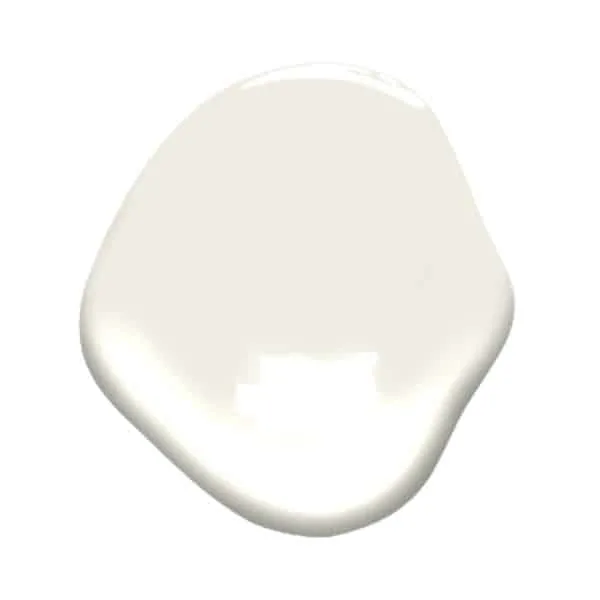 I love Swiss Coffee. It definitely falls into my favorite go-to paint colors.
Swiss Coffee is a complicated off-white paint color. It has undertones of yellow, green, and a touch of gray. The gray keeps the yellow and green from being too dominant. What you see instead is a beautiful creamy paint color that goes really well with most other paint colors.
Swiss Coffee is a warm-toned paint color.
Get a swatch of Swiss Coffee from Samplize!
Linen White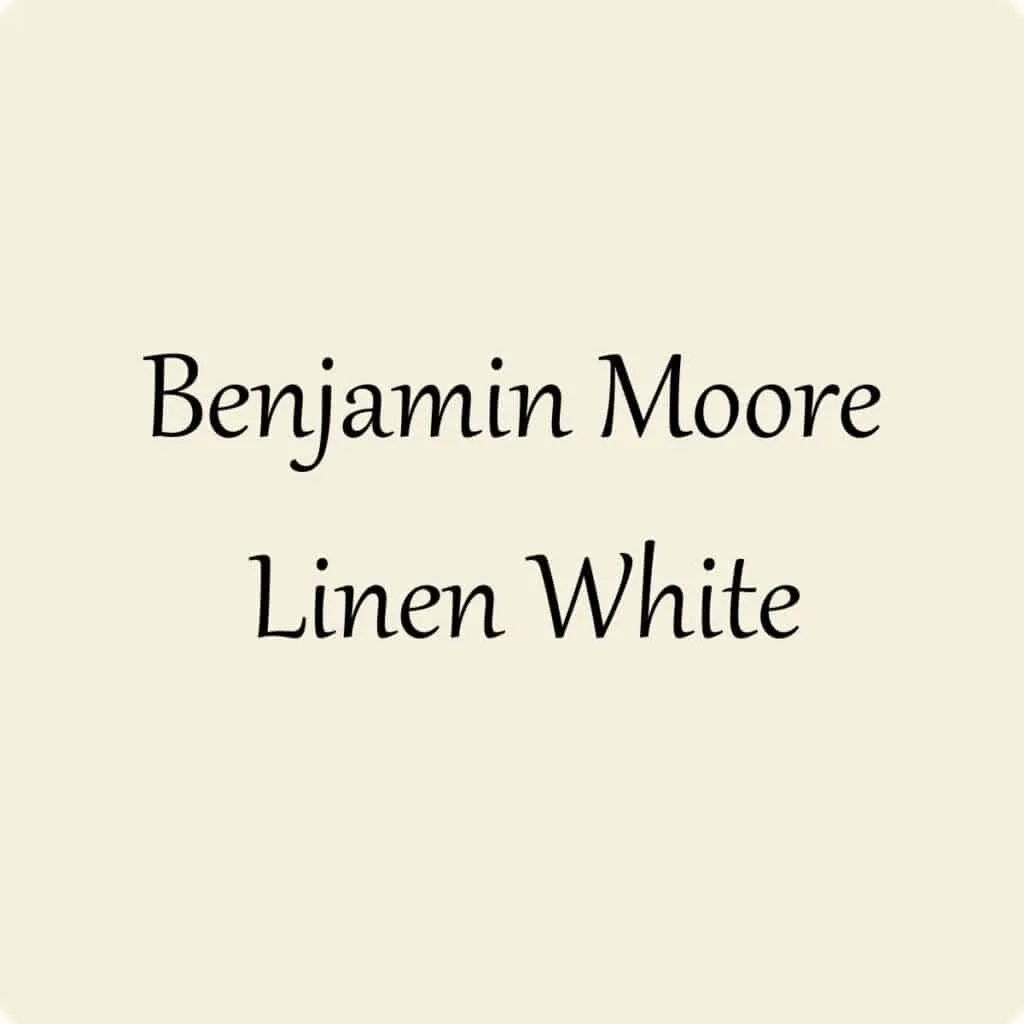 Benjamin Moore Linen White is a gorgeous creamy white that honestly is more creamy than it is white. It is warm-toned.
This color gives your home a fresh feel just like fresh new linens feel on your bed or your upholstered furniture. And with an LRV of 82.45 it will definitely lighten and brighten your space.
Get a swatch of Linen White from Samplize!
Cloud White

Cloud White is a warm white paint color with slight yellow undertones. What's great about this color is that even though it has yellow undertones it has a neutral base which keeps it from being as warm as some of it's counterparts.
The LRV of Cloud White is 87 which makes it very bright. While it is bright it also has this touch of softness that makes is like sitting on a cloud.
Get a swatch of Cloud White from Samplize!
Ballet White

Ballet White is considered a cream paint color but what is really unique about it is that it also has a touch of gray in it.
If you have been around the blog then you know that any time a paint color has gray in it then the other undertones become more subdued. This is a great cream without being very yellow.
Get a swatch of Ballet White from Samplize!
Navajo White

Both Benjamin Moore and Sherwin Williams have a paint color by this name. This BM version is a wonderful cream paint color but the neutral base is very stong which keeps the yellow subdued.
If you want a cream paint color but don't want too much yellow this one might be right for you!
Get a swatch of Navajo White from Samplize!
Featherbed

With an LRV of 85.51 you would think this color is almost a white. You would be wrong!
This color has so much yellow in the undertones that they really show through. This one is a great color but you need to pair it with other things in the room, like trim color and floor color, to determine if it has too much yellow for you.
Get a swatch of Featherbed from Samplize!
How to know if a paint color is right for you?
The best way to judge if a color is good for you you will want to put a swatch on the wall and look at it over a few days. Look at it in different lights and decide if you really like it.
You can do this by getting a sample from the paint store and using a brush to put it up on the walls, but then you are left with a can that you can't do anything with. Those samples are used with poor-quality paint and aren't meant for use on your walls permanently.
I recommend going with Samplize. They are a company that will send you a peel-and-stick swatch of a paint color that you can stick to the wall. When you are done just peel it off and throw it away.
It's easy and much less messy!
Frequently Asked Questions on Cream Paint Colors from Benjamin Moore
Is cream paint considered a neutral?
Absolutely! It's light and bright and makes a perfect backdrop to your home decor and artwork.
What colors look good with cream?
The fact that it's a neutral means that it goes with just about every other color on the planet! But if you are looking for specifics then I would check out these:
What trim color looks good with Benjamin Moore cream paint?
One option on the trim is to use whatever color you are using on the walls, just increase the sheen. For example, if you are using Natural Cream on the walls in satin use it also on the trim in a semi-gloss.
If you want a contrasting color I would go with a color that is a bit more true white such as Highly Reflective White. It will give you a good separation of trim to the wall.
Other paint colors to consider: