All the details on Benjamin Moore Pashmina and this gorgeous greige paint color!
The decor world has gone through some pretty major shifts when it comes to color. The beiges went to the grays. Anything cool-toned would do.
Then the world shifted to light greige and whites. Light and airy was the name of the game.
Now we are seeing another shift, to colors that have a bit more depth of color. We aren't back to the beige and browns but a more updated greige that is darker and has a bit of drama to it!
What color is Benjamin Moore Pashmina?
Pashmina is a greige paint color but leans more beige than gray. It's stunning and has even been referred as sexy by some designers.
I just love the neutral look of Pashmina but it still has a bit of personality. You don't get that a lot with these greige paint colors.
LRV of Pashmina
LRV stands for Light Reflective Value and it measures the amount of light a color reflects. A color that is 100 is the brightest white and one that is 0 is the darkest black.
Pashmina sits at 43.62, which is just about as mid-range as you can get. It is a lighter color that won't make a room look like a cave (unless it has zero windows) but it's got enough depth that it won't get washed out in a natural light like a lot of lighter colors do.
What are the undertones of Pashmina?
What is great about Pashmina is it is very neutral. I mean the colors here are beige and gray. On some occasions a slight hint of green is present but only if you pair it with colors that sit opposite of it on a color wheel.
These opposites attract and bring each other out. So if you don't want green stick to similar colors to Pashmina.
How to know if a paint color is right for you?
The best way to judge if a color is good for you then you will want to put a swatch on the wall and look at it over a few days. Look at it in different lights and decide if you really like it.
You can do this by getting a sample from the paint store and using a brush to put it up on the walls, but then you are left with a can that you can't do anything with. Those samples are used with poor-quality paint and aren't meant for use on your walls permanently.
I recommend going with Samplize. They are a company that will send you a 12X12 peel-and-stick swatch of a paint color that you can stick to the wall. When you are done just peel it off and throw it away.
It's easy and much less messy!
What is the best white to pair with Pashmina?
There are a lot of really great options of white colors that will work with Pashmina. I would try to stick with something that is a bit more neutral than not.
Benjamin Moore White Dove and Oxford White are great colors to choose from because they don't have a lot of yellow undertones.
What is the Sherwin Williams equivalent to Benjamin Moore Pashmina?
Because of the undertones that every color has there is no perfect match to Pashmina from Sherwin Williams. I just want to say that outright. Don't get mad at me if they don't look exact.
Here are two colors that are very similar to Pashmina: Anew Gray and Balanced Beige.
Anew Gray is a warm greige paint color that leans a tad more gray than greige. It looks similar to Pashmina but is more gray.
Balanced Beige is a gorgeous beige, updated from the older 90s versions. This color is more of a beige with just a touch of gray, and Pashmina is more of a true greige.
Coordinating Colors for Benjamin Moore Pashmina
Because Pashmina is a neutral color it looks great with just about any color. I did mention before to stay away from the pinks and purples if you don't want to have those green undertones come out (they are opposite of Pashmina on the color wheel).
Here are some great categories of colors I think would work really well with Pashmina:
creams, tans and lighter beiges
dark earth-toned colors such as Sherwin Williams Urbane Bronze
gray-green paint colors
Benjamin Moore Pashmina Whole Home Color Palette
Get this free whole home color palette for Benjamin Moore Pashmina and you will also be part of the At Lane and High Community! You will receive weekly newsletters on new posts and you can unsubscribe anytime.
Benjamin Moore Pashmina on the Exterior
This gorgeous home has Pashmina on the exterior siding. It goes really well with the red brick don't you think?! I love that it doesn't get washed out with the natural light but doesn't look dark either.
Pashmina in an Entryway
The walls are Pashmina and they go really well with the warm hardwood floors. Notice the cool-toned fabric on the setee and how nice it looks up against the warm wall color!
Pashmina on Cabinetry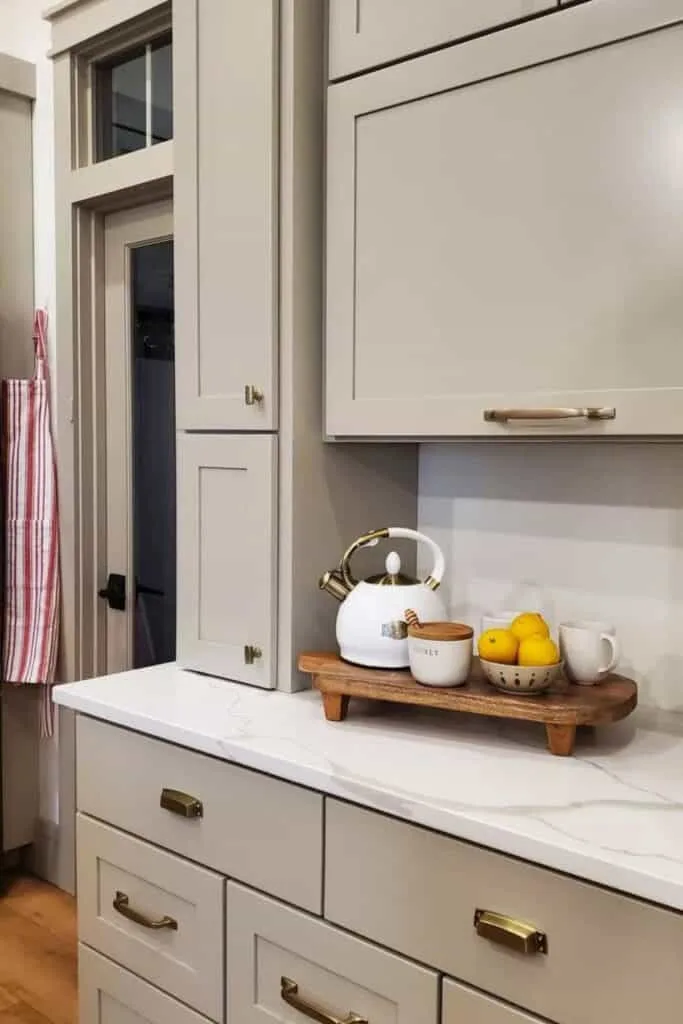 If a paint color can look sexy I would venture to say that Pashmina looks sexy on these cabinets! I love how they look with the kitchen hardware and the gorgeous counters!
Being a min-toned color they don't overpower the room at all. This is just simply gorgeous.
FAQ's on Benjamin Moore Pashmina
Is Pashmina darker than Revere Pewter?
Pashmina has an LRV of 43.62 while Revere Pewter sits at 55.51. So Pashmina is darker than RP. I would consider Pashmina a mid-toned color and Revere Pewter a lighter mid-toned or a darker light-toned color.
What is the difference between Benjamin Moore Thunder and Pashmina?
Benjamin Moore Thunder is more of a stormy gray color that is warm. It's basically more gray than beige.
Pashmina is a greige color that leans more beige where the gray undertones keep it from being overly creamy.
Other Greige Paint Colors You Might Like:
Benjamin Moore Classic Gray