Today I am sharing lots of easy console table decor ideas that will help you get that table functioning well and looking gorgeous!
I love it when form and function come together and what better place to do this than on a console table?
These are places that need to work hard for our homes but there is no reason that this hard-working surface needs to be ugly! So keeping that in mind I am sharing some amazing ideas on how you can decorate your console table so it can work for your home but also your keen eye for design.
*This post contains affiliate links. For more details see my full disclosure.
What is a console table?
You may have heard of an entryway table or a sofa table. How are they different from a console table? They aren't.
An entryway table is in an entryway. A sofa table sits behind a sofa. A console table can go anywhere. So really a console table is a more generic term to describe all these tables that are, in essence, rectangular shaped and provide a surface without taking up too much floor space.
What do you put on a console table?
There are a variety of things you can put on a console table. Artwork and mirrors are great for adding height, as well as vases and lamps.
Photos are also a great addition to personalize your space. Bowls and baskets make great vessels to hold things like keys.
Under a console table is also a great place to utilize. Put small ottomans or poufs for additional seating. You can also add large baskets here to hold blankets (or in my case dog coats and leashes for the different seasons).
How do you arrange decor on a console table?
There is a general rule of thumb when decorating, use odd numbers. So if you are going to add small vases or candlesticks use odd numbers.
Another great idea is to use symmetry or asymmetry. For example, the look of having two lamps at each end is very pleasing to the eye. Or have one large lamp/vase on one end with a large piece of artwork on the other.
How to decorate a small hall table?
Decorating a small hall table is almost harder than decorating a large one. Keeping things simple is the best bet.
You also need to curate what you put on a small hall table. Make sure it's only things you truly love and keep the space functional but also pretty.
Console Table Decor Ideas
Greenery
Adding something green is a wonderful way to bring the outside in and really give the space a freshness.
I always take my cues on decorating from mother nature. Depending on the time of year you can have a plant or cut flowers from your garden.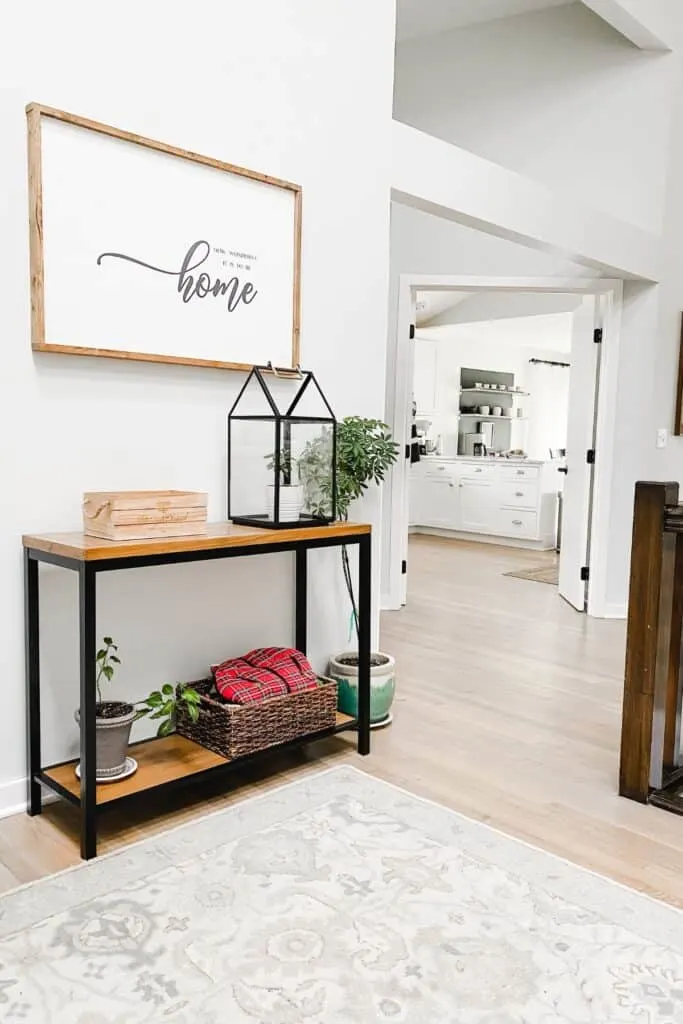 On my console table I have several plants. One is from my father's funeral several years ago, one is a coffee plant my daughter gave me, and a nice tall plant sitting next to my console table.
It's always a good idea to keep in mind the light the space gets. This is one of the best places in my home to have plants because I have three skylights.
If you don't have great lighting there is nothing wrong with going faux! I have a faux fiddle leaf fig in my basement where I get no lighting and I also love faux olive trees!
Slide Ottomans or Poufs Underneath
Having additional seating is often necessary and this is the perfect place to add some. A small ottoman or pouf under a console table gives you additional seating without taking up too much floor space.
This is perfect for smaller homes or apartments.
Driven by decor has done a great job of adding available seating under her gorgeous console table. you will also notice a few other ideas that I will mention…lighting, artwork, and elevating decor with books.
Add Storage Baskets Underneath
In addition to the ottoman trick, another great way to utilize the space under the console table is to add baskets. You can fill these baskets with whatever you need close at hand but don't want to necessarily look at.
In my home, I have a basket under my console table in my entry. It holds everything we need to walk the dog at different times of the year. From harnesses and leashes to winter coats, it's all in there.
Michaela Diane does a great job of storing extra blankets and pillows in the baskets under her console table. This gorgeous fall decor is simply stunning!

Add a Mirror or Artwork to Create Height
You need to create some height above the console table and a great way to do that is to add a mirror or some artwork.
You can lean a mirror or artwork against the wall or hang it. Both of these ideas add the height you need.
Adding artwork on or above your console table is a great way to add height and bring your eye up. This tall lamp and vase with greenery also helps!
This gorgeous arched mirror adds amazing height and the fact that it looks like an old window adds interest. I love the arched detail and how it juxtaposes all the hard angles of the table.

Add Lighting
If you have an outlet nearby then a lamp (or two) is a great thing to add to your console table. In the evening you can turn off overhead lamps and have a nice soft lamp glowing from your console table. It's very relaxing.
Sarah Joy does a great job on this beautiful console table. She has flanking lamps on each end which creates wonderful symmetry.
You can also add lighting in the form of sconces to the wall. This can sometimes become pricey because you might need an electrician to run the wiring.
If you like this look but don't have the budget to hire an electrician you can use the puck light trick on sconces to get the look and light you want for not a lot of money!
My friend over at Lantern Lane Designs doesn't have a console table under her puck light lamps but she easily could. I just love the gold lamps highlighting the artwork here.
Elevate Decor by Stacking Books
Another great designer trick is to vary the height of the items on your console table. To do this all you need is a stack of good looking books and a sculptural item.
A Blissful Nest created an elevated look on the middle shelf which breaks up the coral from there and the bottom shelf.
Driven by Decor has several tricks that I have listed here. She has seating underneath, a mirror above, and lighting. But she also has a gorgeous vase of flowers that are elevated by a stack of books.

Decorative Bowls, Boxes, or Baskets
Many times you need to corral items for function. A great way to do this is to have a decorative vessel to corral these items.
A beautiful wood bowl or perhaps decorative boxes. They are great for holding keys or anything else you need handy.
Caitlin Marie uses books to elevate decor, decorative boxes stacked and baskets underneath. This console table definitely fits the form and function model.

Decorate for Holidays or Parties
Console tables are perfect to decorate for different seasons, holidays or even parties!
I love to change out the artwork or plants to go with the different seasons. For parties, you can turn a console table into a great place for drinks or appetizers.
The great thing about console tables is they can go anywhere and they can be changed up for whatever you have need for at any different time. There are no steadfast design rules for decorating a console table, just different ways to create a fun and functional surface.
This table in my entry is always a go-to place to decorate for holidays or seasons. Here you will see that I changed the farmhouse sign above the table for Christmas and added pops of red and an advent calendar.
Other decorating ideas you might like: