Sherwin Williams Crushed Ice is a gorgeous warm gray paint color that definitely doesn't get as enough love as it should. Today I want to introduce you to this color and tell you why it's so perfect that it deserves a hard look.
Sherwin Williams has a lot of gorgeous warm gray paint colors and Crushed Ice is one that is really great but isn't as popular. It's a gray paint color that leans warm but is not by any means a beige or even greige.
It's 100% gray and 100% stunning!
*This post contains affiliate links. For more details see my full disclosure.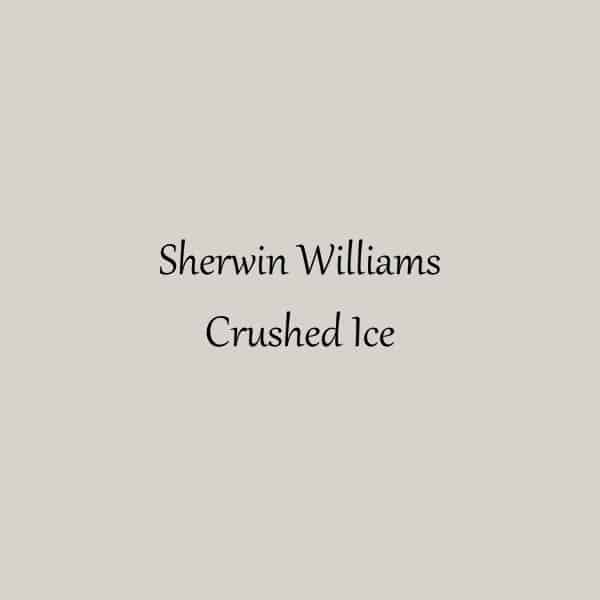 What are the undertones of Crushed Ice?
Undertones are so important when looking at paint colors. They can really make or break the feel of a room.
Crushed Ice has green undertones but it can also lean slightly blue or violet in some situations.
What's excellent about Crushed Ice is that it leans warm but because of its undertones, it can pair really well with other colors that are cool.
What is the LRV of Crushed Ice?
Crushed Ice has an LRV of 66 which puts it into the light category. It's not so light though that it looks white or off white. It has a slight depth of color but won't overpower your room.
When you use it in a room that is north-facing it might get a little washed out with the bright cool light. But when you use it in a south or west-facing room it will warm up and give you the most gorgeous gray tone.
How to know if a paint color is right for you?
The best way to judge if a color is good for you then you will want to put a swatch on the wall and look at it over a few days. Look at it in different lights and decide if you really like it.
You can do this by getting a sample from the paint store and using a brush to put it up on the walls, but then you are left with a can that you can't do anything with. Those samples are used with poor-quality paint and aren't meant for use on your walls permanently.
I recommend going with Samplize. They are a company that will send you a 12X12 peel-and-stick swatch of a paint color that you can stick to the wall. When you are done just peel it off and throw it away.
It's easy and much less messy!
The Best White Paint Color to Pair with Crushed Ice
Sherwin Williams has two paint colors that I think would look amazing with Crushed Ice. One is Pure White which is a warm white paint color. The other is Highly Reflective White and it's a little more on the neutral side.
Both of these colors will allow Crushed Ice to shine!
Similar Colors to Crushed Ice
Now I am not trying to confuse you but if you want to take a look at some other colors that are similar to Crushed Ice here are a few. Now none of these colors are exactly the same but they are very similar.
Sherwin Williams Guild Gray
Sherwin Williams Skipping Rocks
Sherwin Williams Silverpoint
Benjamin Moore Moonshine
Coordinating Colors
Because Crushed Ice goes really well with both warm and cool tones this color really goes with anything! It's a light gray color so I would stay away from pairing it with another light gray color.
I would go with one of the whites listed above or go with a darker color. I would stick with greens or blues. I think black colors or dark charcoal colors would look amazing too!
Sherwin Williams Crushed Ice vs. Agreeable Gray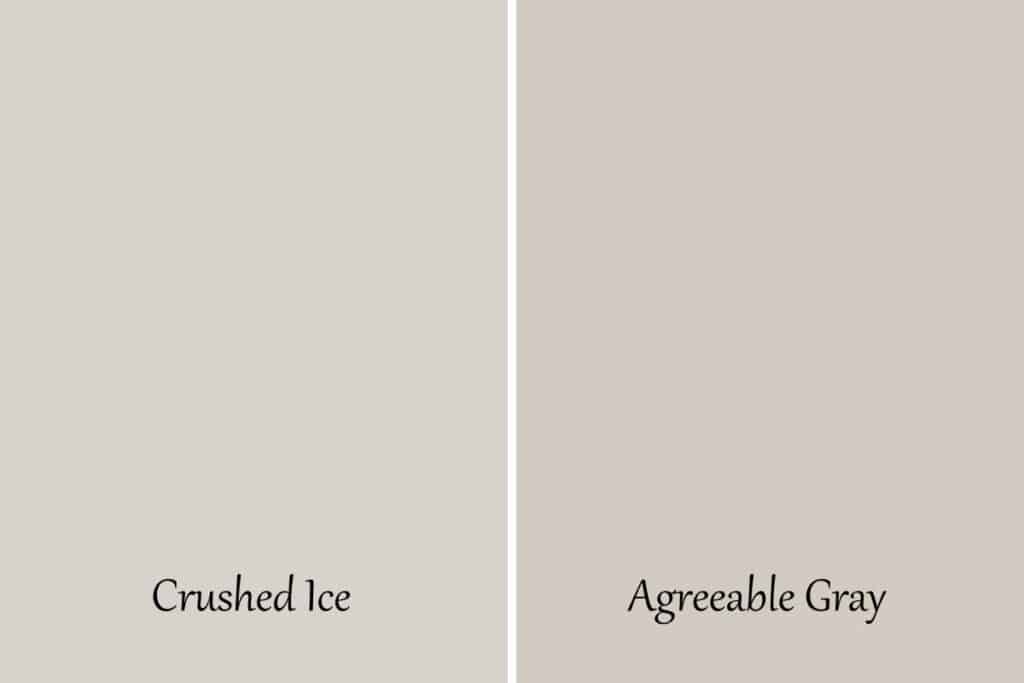 Sherwin Wiliams Agreeable Gray is hands down the most popular gray paint color that Sherwin Williams offers. It is very different than Crushed Ice as you can see from the image above.
Agreeable Gray is MUCH warmer than Crushed Ice. If you are looking for a more neutral color then Crushed Ice is the obvious choice.
Crushed Ice in a Family Room
This family room is amazing with all the windows letting in all that natural light! I love how well Crushed Ice pairs with the warm beige stone on the fireplace and the warmth of the wood floors. You can also see how neutral it is and goes well with the neutral furniture.
Crushed Ice in a Dining Room
Crushed Ice feels a bit more cool in this dining room. This must be a north-facing room with the cooler light coming in the windows.
As you can see the paint color really takes a back seat to the artwork and other accessories in the room.
Crushed Ice in a Bathroom
This is the bathroom of my dreams! I love how nicely Crushed Ice goes with the marble in the shower and on the tile floors. It also goes really well with the silver hardware and light fixtures even though it is a warmer-toned paint color.
Crushed Ice on the Exterior
This gorgeous home has Crushed Ice on the siding with white trim accents. It goes so well with the stone on the pillars.
Frequently Asked Questions about Sherwin Williams Crushed Ice
Is Crushed Ice a neutral color?
You bet your booty it is! Because of the range of undertones in Crushed Ice, it goes really well with warm and cool colors making it a neutral paint color.
Is Crushed Ice lighter than Repose Gray?
They are very close when it comes to the amount of light they reflect but Repose Gray has an LRV of 58 and Crushed Ice sits at 66. So Repose Gray is slightly darker than Crushed Ice, but only slightly.
Does Crushed Ice Go with Alabaster?
You can pair Crushed Ice with Alabaster but Alabaster is a very creamy white. It has a lot of yellow undertones and when you pair that with Crushed Ice and its green undertones the color combination might look a little muddy. That's why I would stick with either Pure White or Highly Reflective White.
Other gray paint posts you might like: