I did a post a long time ago about redoing all the flooring in my basement. Step one was to Stain the Concrete floors in the basement family room. I did that and it's been the best thing ever! Next on the plan are the steps to the basement. So here are the details on How to Refinish Stairs.
*This post contains affiliate links. See my full disclosure here for details.
Step 1: Remove Carpet
While I was working on my Farmhouse Style Laundry Room for the $100 Room Challenge my husband got bored so he ripped the carpet off the steps. This was no easy task. He did all 13 steps all in one day. I will say I was so impressed. The carpet came off in strips of 2-4 steps at a time. Then you have to pull all the staples out, and let me tell you there were a bazillion staples in there! I told him that if I was doing it I would have done one section, then waited til the next weekend to do the next and so on. There is no way that I would have gotten all that done in one weekend let alone one day. To pull the staples out he used a flat head screw driver and needle nose pliers.
I want to apologize, I took a picture of the steps with carpet and now I can't find it on my phone. It's disappeared! So here is a picture of what the carpet looked like in the basement before we ripped it up, you can get the idea of what the steps looked like.
Once the carpet is removed and all the staples are out come through with a vacuum cleaner and sweep all the dust up.
Step 2: Sand the Wood
Now if you have any steps that need replacing now is the time to do it. you can purchase stair treads and risers at the local hardware store. I am so happy that I don't need to replace anything! The wood under the steps is in perfect condition. All I have to do is putty a couple gouges.
It took me about four hours to sand all the steps. I also sanded the wood on the side of the steps as well as some trim. An explanation as to why will come in a few minutes. As you can see in this first pic there were quite a few water stains to get out. And in the second where they didn't satin all the way to the steps, they stopped at the carpet. 😐
I started with 80 grit sandpaper, then went to 120 grit then finished with 220 grit. I used my orbital sander and my good friend Kris (hey Kris😉) let me borrow her mouse sander. With these two I was able to do it all, no hand sanding needed…..thank goodness. I have done my fair share of hand sanding when I sanded my dining room table that I refinished, and these 3 different kinds of chairs that I recently finished redoing.
Here is the plan for this week…
This weekend I plan on staining the stair treads. I bought two kinds of stain in the really small cans because I want to match it to the existing banister, I bought Jacobean and Ebony.

Then once the stairs are stained I will put at least three coats of poly on them. My kids bedrooms are downstairs and they always take food and drink down there.
The plan for the walls….
Box molding, that's is the big plan!!!!! I sanded the sides of the steps (I have no idea what that is called) as well as the trim because I plan on painting it white. Then I am adding box molding on the wall very similar to this wall. I took this picture while I was on the Parade of Homes last summer. You can get the whole post here.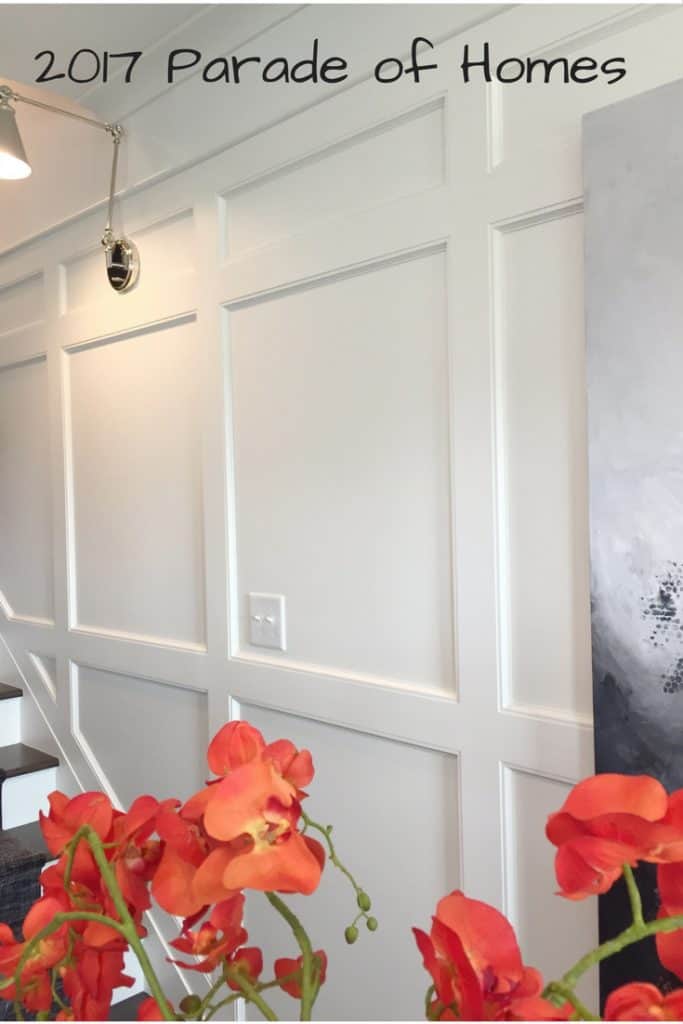 So that's the plan! I couldn't wait to share the progress so far. Next time I share I am hoping to have the treads done and the molding up! Who knows, maybe I can get all that done this weekend? We'll see. I always think I can do more than I actually have time for but hey, a girl can dream!
Happy Decorating!
Wendy