Sherwin Williams Natural Tan is a gorgeous warm paint color that will really give depth to a room without stealing the show. Today I am exploring all the details of this gorgeous color.
Tan and Beige are a bit different and this color is definitely more of a tan. It is light and bright but also brings a certain depth that really gives a room personality. It's like wrapping you up in a hug.
*This post contains affiliate links. For more details see my full disclosure.
Natural Tan Undertones
Natural Tan is actually a very neutral paint color meaning the undertones aren't really very apparent. There is a touch of green in this color as well as a small bit of yellow but really you won't see them unless you pair them with green and yellow furnishings.
The LRV of Sherwin Williams Natural Tan
LRV stands for Light Reflective Value and it's a scale measuring how much light a paint color reflects. It goes from 0-100 with 100 being the brightest white and 0 being the darkest black.
Natural Tan sits at 65 which makes it a light paint color. It really sits right on the border of being light-medium.
How to know if a paint color is right for you?
The best way to judge if a color is good for you then you will want to put a swatch on the wall and look at it over a few days. Look at it in different lights and decide if you really like it.
You can do this by getting a sample from the paint store and using a brush to put it up on the walls, but then you are left with a can that you can't do anything with. Those samples are used with poor-quality paint and aren't meant for use on your walls permanently.
I recommend going with Samplize. They are a company that will send you a 12X12 peel-and-stick swatch of a paint color that you can stick to the wall. When you are done just peel it off and throw it away.
It's easy and much less messy!
The Best White for Natural Tan
Since this color is warm I really like to pair it with a warm white. One of my favorites from Sherwin Williams is Pure White.
You can also go with a more neutral white such as Highly Reflective White. This one will contrast a little more with the tan color and make it stand out more.
Sherwin Williams Natural Tan Coordinating Colors
Natural Tan looks really well with gray paint colors, especially if they are darker. It also looks amazing with warm white colors.
If you are looking for something with more color than gray or white then I would steer you towards the blue family. Blue-gray colors are fabulous with Natural Tan as well as blue-green colors.
The best place to use Natural Tan:
Natural Tan is a gorgeous neutral color that can be used anywhere! Here are my favorite places:
Entryways
Kitchens
Bedrooms
Basements
Family Rooms
Sherwin Williams Natural Tan Whole Home Color Palette
Get this free whole home color palette for Sherwin Williams Krypton and you will also be part of the At Lane and High Community! You will receive weekly newsletters on new posts and you can unsubscribe anytime.
Sherwin Williams Natural Tan in Real Homes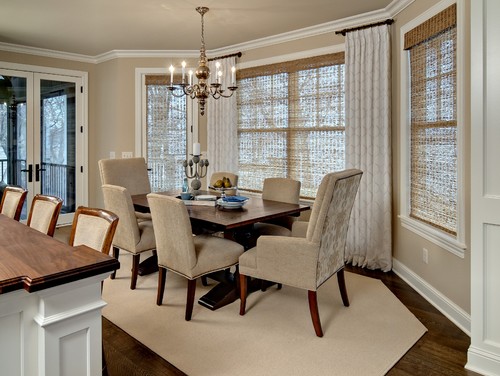 This gorgeous dining room shows off the color really well. Pairing Natural Tan with warm wood tones and creamy whites keeps the room nice and neutral while bringing in lots of texture.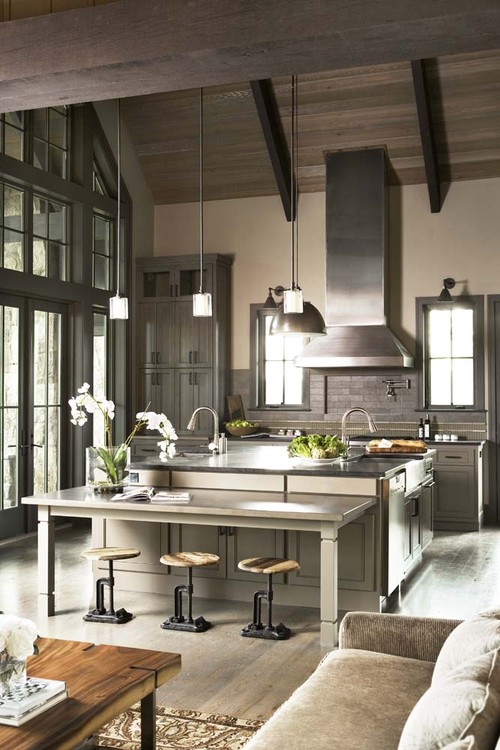 Here you have a gorgeous kitchen with Natural Tan on the walls but there are also a lot of grays in the space. The tan color really keeps this kitchen from feeling too cold.
Frequently Asked Questions:
Does Sherwin Williams Natural Tan look yellow?
The quick answer here is no, Natural Tan doesn't look yellow. It does have a very slight bit of yellow in its undertones but this color is very neutral and won't look yellow on your walls.
Is Sherwin Williams Natural Tan a warm or cool color?
Natural Tan is a warm color but how warm will depend on which room you use it in. In a north-facing room, the color will look a little more gray but in a south-facing room, the warm light really brings out the beige in the color.
What is the difference between Natural Tan and Accessible Beige?
Natural Tan is a bit lighter than Accessible Beige. It also is more neutral with not a lot of undertones whereas Accessible Beige has definitely green undertones.
Accessible Beige is also a bit cooler than Natural Tan. Both are gorgeous paint colors though.
Here are some other paint colors you might like: