Which type of checkered floor is right for you? That depends on a lot of factors. Today I will go through everything you need to know so you pick the right tiles for your space to create the perfect checkered floor pattern in your home.
Checkered floors are a timeless and classic design element that will never go out of style. There have been periods of popularity over the years, and we are experiencing one of those periods.
Checkered floors can be done in many different ways, from bold and large scale to subtle and small. There is a type of tile that is for everyone and size is a big deal. It can make or break the look.
What is a checkered floor?
Check (also checker, Brit: chequer) is a pattern of modified stripes consisting of crossed horizontal and vertical lines which form squares. The pattern typically contains two colours where a single checker (that is a single square within the check pattern) is surrounded on all four sides by a checker of a different colour.

Wikepedia
The first line of this explanation is a little confusing but the second line really explains it well. One color is surrounded on all four sides by a different color.
Are checkered floors outdated?
The checkered pattern dates back thousands of years and can be seen in ancient pottery and other artifacts. Checkered floors were first seen during the Renaissance period. Once stone and tile started being used as flooring artists and designers started using the pattern in homes.
Since then checkered floors have been used widely in homes all across the world. They are a timeless design element.
Now even timeless elements have moments of popularity where they are used more often than other times. Right now we are definitely in one of the more popular moments for checkered floors.
How To Pick The Right Checkered Floor Tile Size
Choosing the right size tile is one of the most important things you can do when installing a checkered floor. Too large a tile in a small space and you cannot see the pattern. Too small a tile in a large room and it becomes too busy and displeasing to the eye.
If you cannot find the right size of tile that you want you can always have your installer cut tiles to the right size. Just keep in mind that this will add to the cost of installation because it will take more time for the contractor to finish the project.
Large and Oversized Tiles
For larger rooms, you want to stick with large or oversized tiles. If you use medium or small tiles then you risk the design challenge of being too busy.
If you have a medium/large room but have vaulted ceilings then large tiles will work perfectly. The high ceilings make the room feel even larger.
Medium Sized Tiles
The best place to use medium-sized tiles is in a medium-sized room, I know duh right?!
You can use medium-sized tiles in a larger room but you will need to be careful to keep it from looking too busy. In very large rooms I would stay away from medium-sized tiles.
In mid to small-sized rooms you can use medium sized tiles. It will give a larger scale pattern and that can be very cool. Just make sure you can see the pattern. If it's too big in a small room you run the risk of it not showing up.
An example of a medium-sized tile is one that is approximately 12X12.
Smaller Tiles
Small tiles in a checkered pattern are perfect for smaller rooms. Think powder rooms or laundry rooms. In a bigger room small tiles will make the floor very busy and will draw the eye to it and everything else in the room will fade away.
If that is your goal then go for it. But normally we want the floors to be seen but not heard. We like them but we want our accessories and artwork to be the star of the show.
Different Types of Checkered Floors
Marble Floor
Ceramic
Porcelain
Linoleum
Granite
Limestone
Painted Wood Floors
Stained Wood Floors
Painted Concrete
Checkered Marble Floors
Marble is a material that is just as classic and timeless as the checkered pattern.
Marble checkered floors are simply stunning but you have to consider more than just looks when it comes to flooring.
Like marble countertops, marble floors are porous and can easily scratch. Water can leave marks as well, so if you live in an area with snow or where it rains a lot this might not be the best option.
There is one more thing to consider with marble checkered floors, the cost. Marble is an expensive material so if you are covering a large area it might get pretty pricey.
This small space is high on style. I love the muted tones in this checkered floor.
Checkered Porcelain Floors
Porcelain is a great material to use for flooring. It doesn't scratch easily, is hard as can be and can easily be laid in a checkerboard pattern.
Another great thing about porcelain is it's much cheaper than marble.
On top of porcelain is a glaze which keeps it from being porous and from scratching. It doesn't need to be maintained which makes this a great product.
This room is very large and boasts an oversized tile in a black and white pattern. It really is quite the showstopper!
Checkered Ceramic Floors
Ceramic is similar to porcelain in that it is a man-made material but it has a few differences.
Ceramic isn't as hard as porcelain but it's still very durable. You won't see stains or scratches. What's great about this product is that it's even cheaper than porcelain.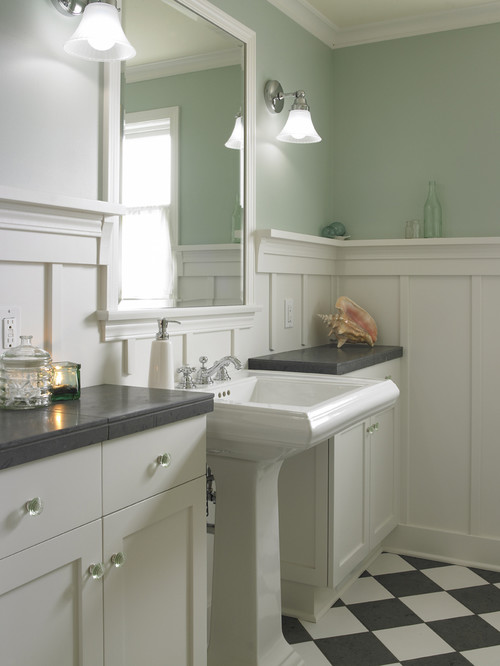 This stunning bathroom has tons of character. From the checkered floor and the board and batten. It's classic and timeless.
Checkered Linoleum Floors
Linoleum is also another option. You can get peel-and-stick tiles and create your checkerboard pattern or you can buy it in a sheet.
One of the great things about linoleum is that it's a very good friend to the average DIY'er. The only bad thing is that this product won't increase the value of your home the way the other types of tiles will. But they sure will up the I want it factor when it comes to buyers.
Checkered Granite
Granite is fabulous in a checkered pattern. Granite is slightly porous and will need to be sealed once a year but other than that is extremely durable and very low maintenance.
Checkered Limestone
Limestone is great because it gives your floors an old world look. Now limestone is a natural product which makes it porous and unfortunately it will scratch easily. But with the old world look that can also enhance the look.
These stone floors have an old world look and feel.
Painted Wood Floors in a Checkered Pattern
If your wood floors aren't in the best shape and stain isn't the best option then you might want to paint them. Painting a checkered pattern on your wood floors gives them a fabulous look and character while also disguising imperfections.
Another thing that is great about painted wood floors is that it's totally something you can do yourself! Save money and add a unique design element, it's a win-win!
The only downfall of painting floors is if it's in a high traffic area then you will have to repaint every so often because the paint will scratch off slowly. Always make sure you put a durable top coat on.
These painted wood floors in a large scale pattern give this entryway a ton of style.
Stained Wood Floors in a Checkered Pattern
You want a checkered pattern but don't want to paint your floors then consider using two different color stains. You achieve your chosen look but also keep the durability of wood.
Painted Concrete in a Checkered Pattern
Granite is a great product to use outdoors but most of us have concrete. Patios or screened porches are great for adding a checkered pattern.
This garage floor is high on style! It's almost a shame to park your cars on them.
Other flooring posts you might like: