It's Thanksgiving and the meal is the star of the show! Creating a beautiful backdrop is what we are discussing today. I have put together some of the most beautiful Thanksgiving table setting ideas for you, I am sure you will be inspired.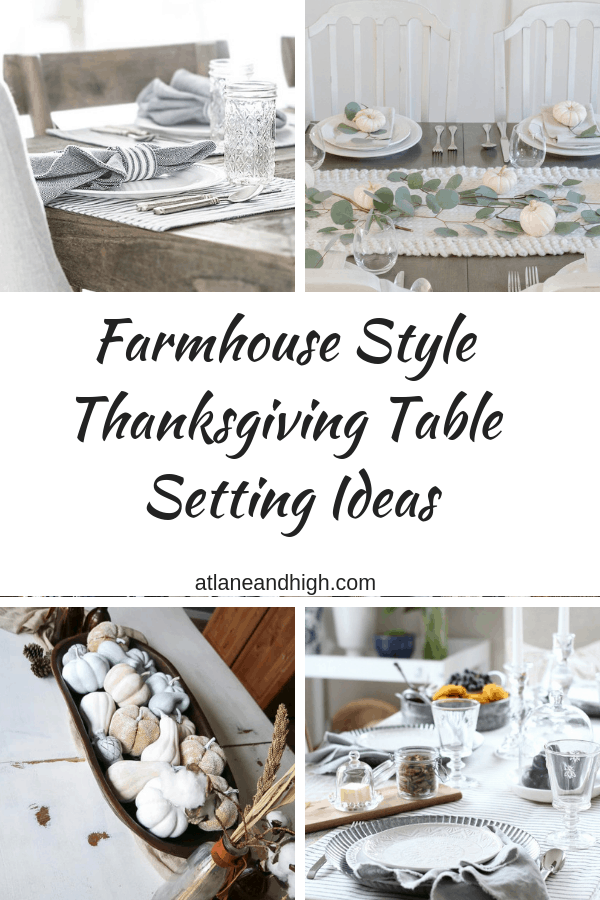 Thanksgiving is my favorite holiday! Anything that is about gathering with friends and family, eating and drinking is what I am all about!
Don't get me wrong, Christmas is great but there is just such a long to-do list that it becomes overwhelming. That's what I love about Thanksgiving, it doesn't matter if one of the dishes burns because there are so many dishes to eat that one less won't be noticed! LOL, not that I ever burn anything, or catch anything on fire……just don't talk to my husband about that. 😆
*This post might contain affiliate links. See the full disclosure for more details.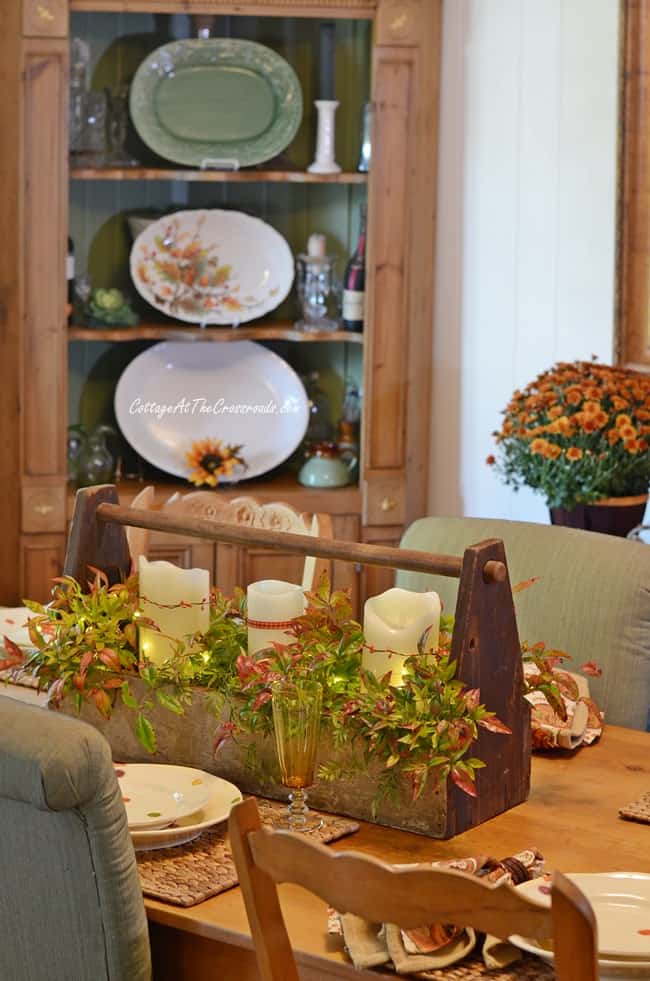 What I love about this Thanksgiving table setting is simplicity. You have a vintage tool box, floral stems, and candles. It's easy and beautiful.
In this photo, I just love the hydrangeas and pumpkins together! And all the cute little pumpkins on the plates is just the perfect touch.
This is farmhouse all…the…way! That table for one is STUNNING! I just love the ticking in the placemats and the cute napkins. So pretty and simple.
This tablescape is one of my favorites. If you closely at the candlesticks you will they have amazing wood grain. And the tiered tray with more pumpkins than you could dream of! I have a thing for tiered trays for sure. I love them.
This one is all in the details. Not only does she have pumpkins, but pinecones, birch candles and a beautiful white pitcher did also you notice the cotton stems holding the silverware together? And not to mention the beautiful writing. I have been dying to learn modern calligraphy, I actually bought a book to practice. Now I just need the time to do it!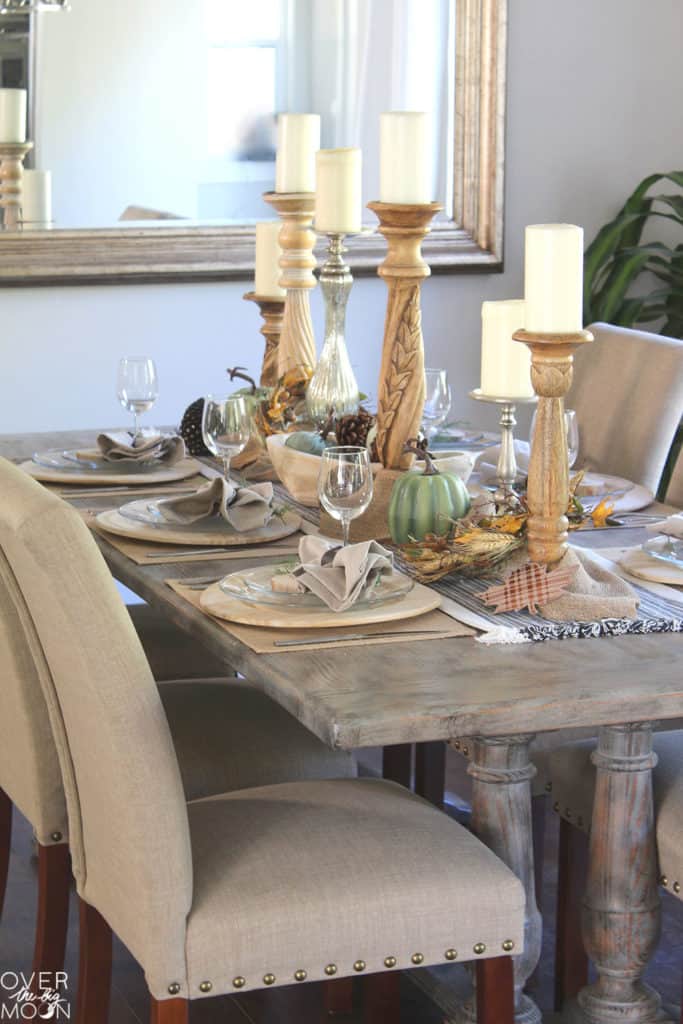 I am over the moon for these candlesticks (see what I did there 😊). I just love the carved detail. The plaid leaves, table runner and burlap make for a perfect farmhouse Thanksgiving table setting.
Eucalyptus is so popular in home decor right now. I love this table runner, with the addition of the eucalyptus and white pumpkins, this is the perfect example of Neutral Table setting Ideas!
Another Farmhouse Thanksgiving Tablescape with stripes, or ticking as it's called. This table looks like it's ready for guests right now! I could go for some stuffing right about now, how about you?
Little Red Brick House
This is a pretty neutral tablescape but I love the greenery, that's my favorite part. It really adds that special touch.
She actually made each one of those pumpkins. Okay, she didn't make the pumpkins, she got some colorful ones from the dollar store and painted…so she created the beautiful pumpkins you see here. I love them placed in the dough bowl.
Hydrangeas again, didn't I mention how much I love them! They work with evderything. In this dough bowl with the wine corks is just perfect for Thanksgiving. I also love the hanging jars, the color really makes them special.
The natural elements here really shine. I also REALLY love the pumjpkijs on the plates. They are like mercury glass and I want to DIY some for sure.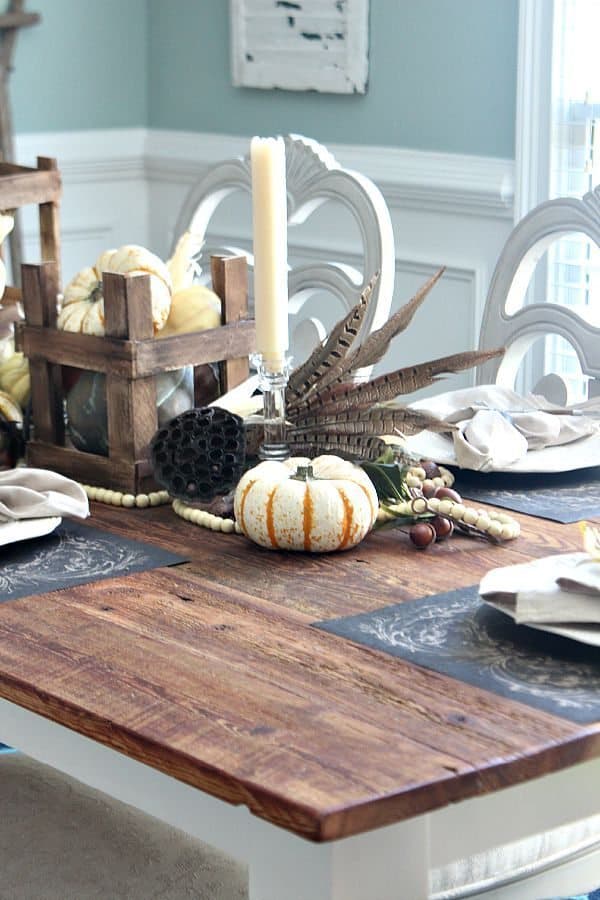 More great natural elements, I just love it. And let's talk about that paint color! It's so pretty! And this farmhouse table is perfect for the natural Thanksgiving table setting.
I hope you found some great Thanksgiving table setting ideas here for your own Thanksgiving table. I highly suggest you pin it for later, just so can come back and look at it later.
PIN FOR LATER⬇⬇⬇
Now I would love to know what is your FAVORITE thing to eat on Thanksgiving? Mine is stuffing, and pumpkin pie!