Hello friends! I am so excited to share our Guest Bedroom today! I did a ton of DIY projects for this room and today I will share them all with you!
This has been a really fun project, and the transformation has been unreal. I wish I had taken a before photo of this room. It is my daughter's bedroom and she moved out last March. She moved to be closer to her fiance, now husband.
This room was a typical teenagers room (even though she was 22!). You couldn't see the floor, there were dishes everywhere and some unknown substance on the ceiling.
I thought it was beef stew, might have been a protein shake I am not sure. I still can't get a clear answer on that. She just laughs when I ask.
Can you picture it? Yeah, totally gross. After she moved out we got rid of the dresser she had used since she was 3. We cleaned the carpets, twice. Then I painted the ceiling and the walls.
The ceiling is just a matte ceiling paint from Home Depot and the walls are Sherwin Williams Agreeable Gray.
*This post contains affiliate links. For more details see my full disclosure.
Guest Bedroom Reveal
Well, let's get right to the photos!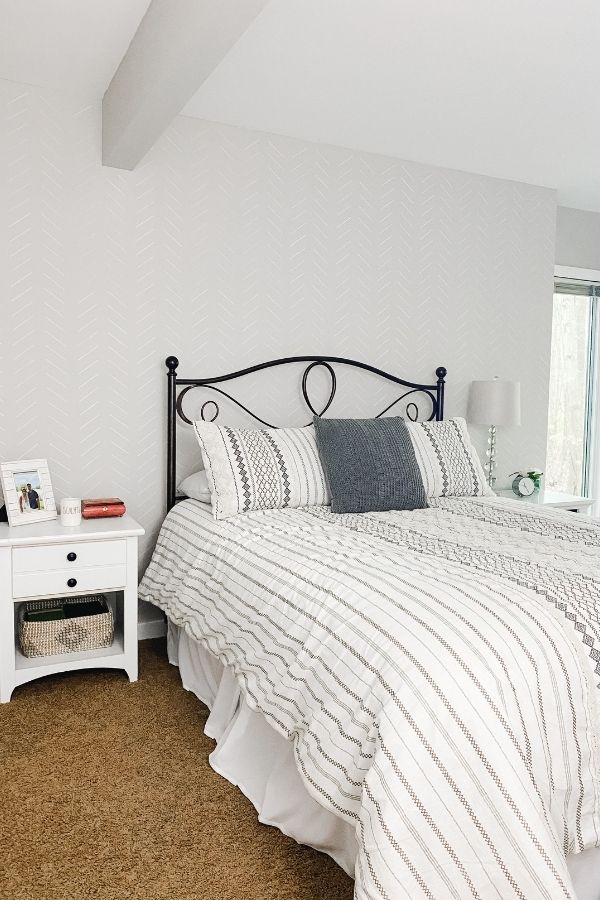 I moved the furniture around from where she had it. She had the bed where the dresser is now, pushed up against the wall. That's fine when it was just her but she is married now so I wanted it to be able to be accessed from either side.
Plus I needed another bedside table. I had this filing cabinet with only one drawer in my storage area. It matched an old desk we had and was stained a dark brown. I painted it using Fusion Mineral Paint in Casement.
I used this same paint for my Vintage Desk Makeover and you can go to that post to see the exact steps I used to change the color.
Did you notice the subtle wall feature? I bought this herringbone stencil from an Etsy shop and used white sharpie paint pens to create this look.
This project was so easy, it literally took about an hour to do the whole wall!
Guest Room Furniture – Dresser Makeover
I did a lot more DIY projects on the furniture. One of them was on this antique dresser that I purchased off Facebook Marketplace for $80.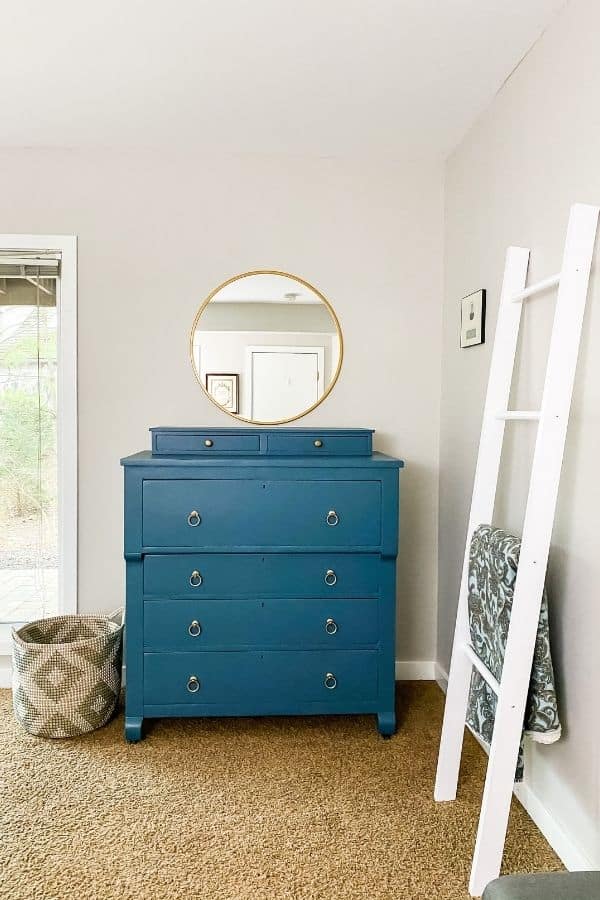 In the basket to the left of the dresser, there is a subtle blue weave. That is how I chose my paint color for the dresser. The paint color is Sherwin Williams
The knobs I picked up at Hobby Lobby after I chose these pulls from Wayfair. I thought the brushed gold color went really well with this blue gray paint color.
This mirror also turned out to be the perfect addition and matched the brushed gold perfectly. I picked it up from Target.
DIY Blanket Ladder
This blanket ladder was one of the easiest projects I ever did. It took about an hour to put it together. I will have a complete tutorial coming on that very soon.
My younger daughter has already asked for one for her apartment and my husband said we should have one for our family room. As you can see this project was a total hit!
DIY Bench
I really wanted a bench opposite the bed but benches can be so pricey! All the ones I liked were at the minimum $150 and upwards of $250. I built this guy for about $70 and again, was so easy!
I will have a full tutorial on this as well coming in the next few days. Be sure to check back!
I have added a few details that reflect my daughter. She had this bulletin board in her old room so I used it to show some of her photos of graduation from college and her husband and their two dogs.
I also have a baby picture by the dresser that is just the cutest! And on the wall next to the closet is the cross-stitch that her grandmother made her when she was born.
This is still my daughter's room, but it will also be used by guests when they come to visit. So I tried to incorporate both Emily as well as neutral decor to make it a nice and comfortable room.
Around the bulletin board, I am considering making a gallery wall. Maybe painting the bulletin board white. Not sure but for now this room is done. Decorating is an ever-evolving art and I am not sure we are ever really done.

What's left to do?
There are a few things left in the room I need to do. One of them is to replace the carpet. But I need to do that in every room of my house so that will have to wait until the budget allows.
I also would like to replace the blinds in both my kid's rooms and put in roller shades, again we have to wait until the budget allows.
Lastly, I would like to install a fan that has a light on it because there is currently no overhead lighting. That's been a bit of a debate, I think there used to be a fixture there but I can't be sure until I drill into the ceiling drywall.
Definitely not looking forward to doing that. With my luck, there will be nothing there and I will have a huge hole to patch or I will have to hire an electrician to wire it! Cha-ching!
Those things will happen eventually, but for now this is my Guest Room and I am very happy with how it turned out.
Check out these other room reveals:
Farmhouse Style Breakfast Nook Reveal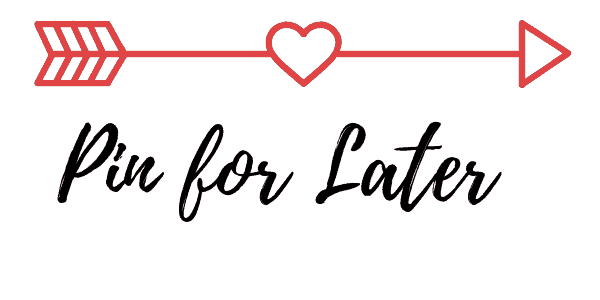 I hope you enjoyed my Guest Bedroom reveal. The only thing I have left to do in this room is replace the carpet!