I am so excited to share with you my Wood Stump Side Table. Talk about making lemonade out of lemons, this guy turned out so good. He exists because a tree died….sad right. It's kind of a long story but if you stick around I will explain exactly how to make a wood stump side table of your own!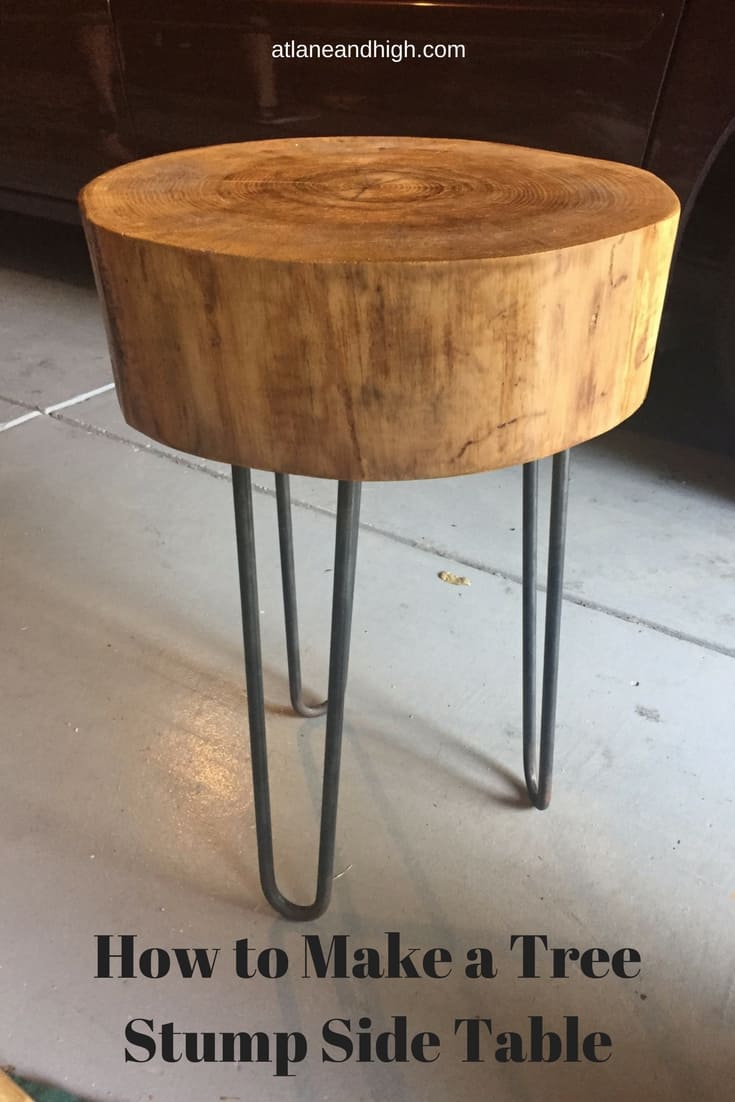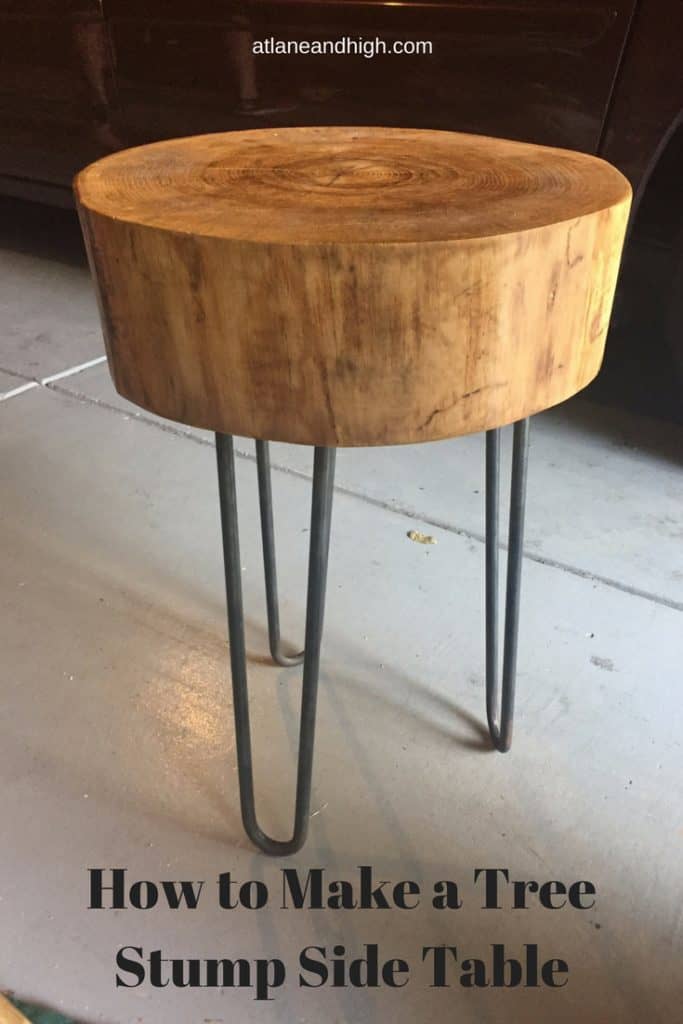 *This post contains affiliate links. For more details please see my full disclosure.
A Little Background on How I got the Tree Stumps
I live in the Midwest where Ash trees are native. Unfortunately the Emerald Ash Borer has come to the United States and invaded these poor trees. There are so many dead trees in the area, many have been cut down and are now firewood for our homes. I had a neighbor at our old house who had to cut down 5 Ash trees. Yep, that's what I said, 5! And in the neighborhood we don't have all that many trees, it's a fairly young development. I saw him out cutting the trunk into stumps and asked him if I could have a few. There were so many he was happy for me to take them off his hands. So there we were, my hubby and I, rolling stumps across the street. Haha, it was quite a sight!
What I did with the Tree Stumps
I used 2 of the stumps in the backyard patio as end tables. They were pretty cool. I didn't do anything to them, just put them in place and plopped down a plant and a cold beverage….Instant end table. After we moved I used them on the deck but there are so many trees overhead they were not able to dry out after rain. They need to be treated because stuff is growing on them now which is totally gross. My daughter and I moved them into the garage last week to get them to dry out so I can sand and poly them.
The other two stumps I loaded into my car and took to a sawmill to be sliced. Did you know that when you slice a tree the slices are called cookies? Yep, tree cookies! LOL I had them cut in 1″, 2″ and 5″ cookies. The five inch cookies I am making tables. The one inch cookies I will use as chargers or other decor. The two inch cookies I plan to use as table tops, maybe a hanging table and for decor. I think I will try to chalk paint one and put it on my front porch. Lots of neat ideas. Below are some pictures of what I plan doing.

How to Make a Tree Stump Side Table
Now comes the fun part…….how to make the table. After you get the tree sliced into cookies you have to treat the slices in order for them not to crack badly as they dry out. I used a metal pan that is supposed to go under a water heater just in case of a leak. And some plastic from the paint isle to protect the metal pan from instantly rusting. I put some Pentacryl down on the plastic then placed the tree cookie on it and poured a little Pentacryl on top then folded over the plastic. This needs to properly soak in so I would let it sit for a day. Then take it out and lean it up against something to dry.
Once the tree cookie is dry take a hard look at the bark. Depending on when the try was cut down will determine whether the bark will stay on or not. If it's cut in the Fall or Winter then the bark will stay on, but if it's cut in Spring or Summer then the bark will fall off, it's just a matter of time. My trees were cut in the summer so the bark is falling off. I didn't really want the bark on for my wood stump side table. So I took it off, you may have to use a hammer and chisel but the longer you wait the easier it is. I left my stumps sit for a few months before I had time to work on them and the bark came off easily.
After you get the bark off sand the sides, top and bottom. I used an sander, starting at about 80 grit and moving up to 220 grit to finish it off. I tried really hard to get all the bug's borer marks out of the sides. They really gave me the willies! Once you are done sanding clean with a tack cloth and apply polyurethane. I used at least 3 coats of poly for the top, but I may do more for my next one.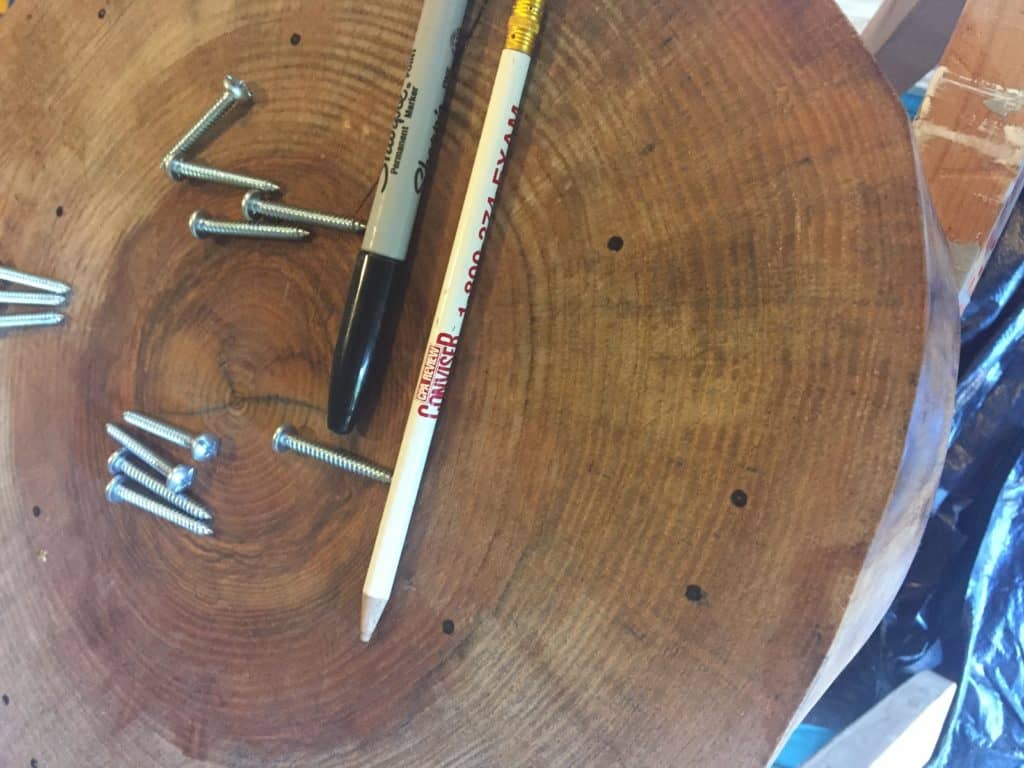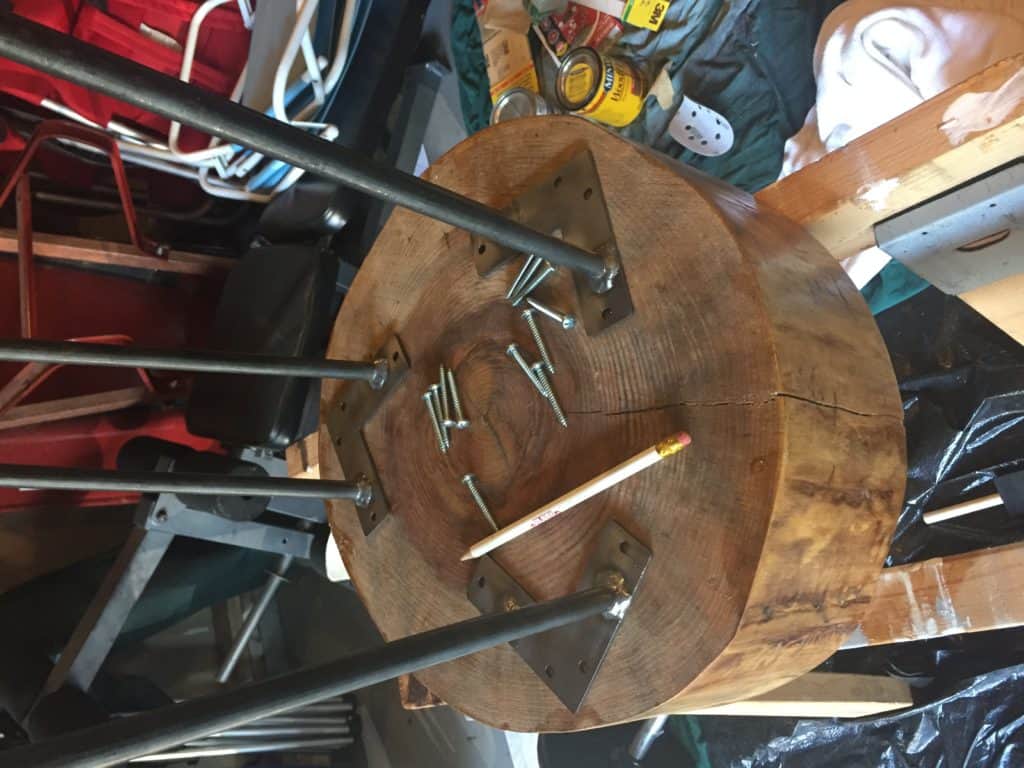 I bought table legs for my table from Etsy. They are amazing! I screwed them on to the bottom of the table and voila! I made a wood tree stump side table!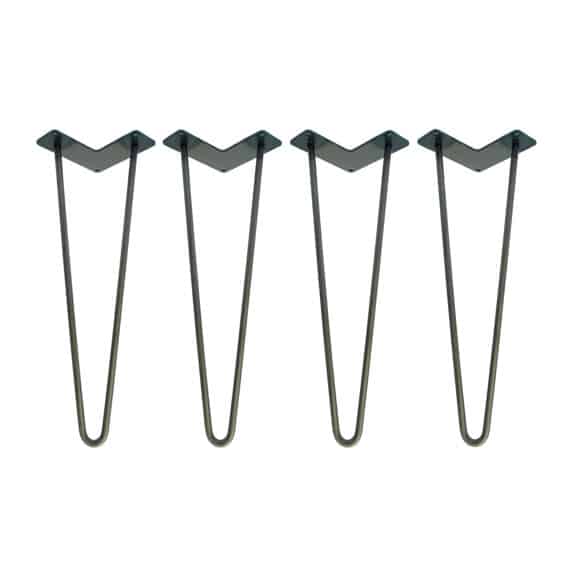 They guys at work said I should sell them. They think I could easily make $100-150 profit from each one. I don't know about that but I will tell you that between paying the sawmill for the cuts ($7 a slice) and the Pentacryl, then the table legs my total cost was about $60 a table. Not too shabby!!!!! You could make one too, all you need is a tree!